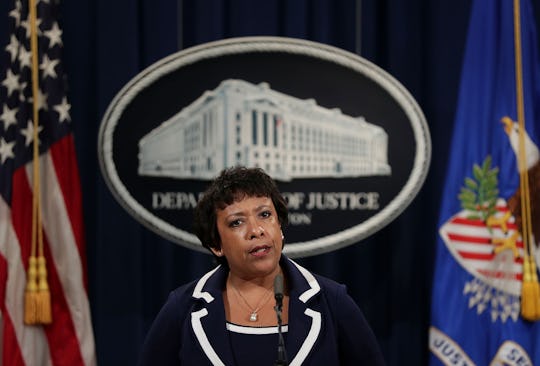 Alex Wong/Getty Images News/Getty Images
Loretta Lynch's Comments On The Dallas Shooting Encouraged Reflection & Nonviolence
On Friday, Attorney General Loretta E. Lynch addressed the sniper shootings that took place in Dallas at the end of a peaceful protest Thursday evening, killing five police officers, and injuring several others, including a peaceful protester. The protest was in honor of the recent black lives lost due to police violence; 37-year-old Alton Sterling and 32-year-old Philando Castile are the latest of many black lives known to be lost at the hands of police. Lynch's comments on the Dallas shooting were centered around reflection and nonviolence.
"Last night, at least five police officers were shot and killed, and several more were injured, along with two civilians, as they sought to protect a peaceful protest in Dallas, Texas," the attorney general said, according to WGN TV. "Our thoughts and our prayers and condolences go out to the families who have lost loved ones."
Lynch noted that The Department of Justice is working closely with state and local officials to investigate the attack, and that Dallas officer Brent Thompson, was one of the police officers identified who lost their lives in the attack. According to the Associated Press, as of Friday afternoon, authorities have identified the shooter as 25-year-old Micah Johnson.
The attorney general also recognized the tragic deaths of Castile and Sterling, and added that a civil rights investigation into Sterling's death is underway in Louisiana, and that the DOJ is working with Minnesota authorities to investigate Castile's death.
But Lynch maintained that the answer is not violence, while also questioning gun laws and the access to deadly weapons, according to WGN TV:
After the events of this week, Americans across the county are feeling a sense of helplessness, of uncertainty and of fear. These feelings are understandable and they are justified. But the answer must not be violence. The answer is never violence. Rather, the answer must be action: calm, peaceful, collaborative and determined action. We must continue working to build trust between communities and law enforcement. We must continue working to guarantee every person in this country equal justice under the law. We must take a hard look at the ease with which wrongdoers can get their hands on deadly weapons and the frequency with which they use them. We must reflect on the kind of country we want to build and the kind of society we want to pass on to our children. We must reject the easy impulses of bitterness and rancor and embrace the difficult work of finding a path forward together.
At the closing of the attorney general's speech, she insisted that the American people work together to move forward and to not consider these past deadly and tragic incidents as the "new normal" in the United States.
"I ask you to turn to each other, not against each other as we move forward."