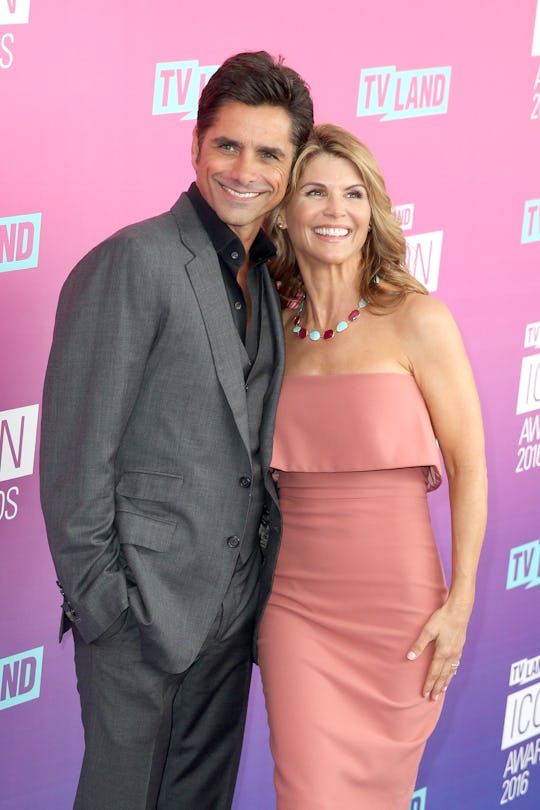 Joe Scarnici/Getty Images Entertainment/Getty Images
This Photo Of John Stamos' Son Meeting Aunt Becky & Danny Tanner Will Warm Your '90s Kid Heart
As sad as I still am that Uncle Jesse and Aunt Becky never ended up getting married in real life, I will admit that John Stamos and his wife, Caitlin McHugh are a pretty adorable couple. After tying the knot in February, the two welcomed their first child together — a son named Billy — on April 10, and shortly after, Stamos introduced him to the world in a super sweet post on Instagram. Judging by the actor's most recent post though, it looks like the newborn recently welcomed some very important visitors: Lori Loughlin and Bob Saget met John Stamos' son, according to People, and thankfully, Stamos shared the moment for all to see on social media. Fans may have waited a long time for this moment — Stamos became a dad for the first time at 54 years old — but it definitely did not disappoint.
In the pic, Stamos looked like a super proud new dad as he held up his infant son for Loughlin and Saget (who played Danny Tanner in Full House, in case you somehow forgot) to fawn over. But if that weren't already cute enough, Billy also happens to be wearing a "Jesse and the Rippers" onesie, which has to be the most perfect Uncle Jesse tribute ever. And while Loughlin and Saget's own baby-raising years may be long behind them — Loughlin has two teenage daughters who are now pretty much Instagram celebrities, according to W, while Saget has three adult daughters of his own — they couldn't possibly look any happier for Stamos.
The photo is now the second time Billy has made an appearance on his dad's Instagram feed: the first was in his gorgeous birth announcement, in which the newborn could be seen lying on his dad's chest in a black-and-white photo. In the caption, Stamos wrote "From now on, the best part of me will always be my wife and my son," along with the hashtag, #NotJustanUncleAnymore.
The new dad did give at least a small hint that Billy might soon be getting a visit from everyone's favorite Aunt Becky, though. On April 25, he shared a video in which Loughlin offered up her congratulations, and told him she wanted to come pay his son a visit:
Though Stamos and McHugh seem to have decided against sharing photos of Billy's face for now, he also popped up on his mom's Instagram page on May 4, in a sweet Star Wars-themed onesie. But while that may have been the first photo McHugh shared of her newborn son, the 32-year-old actress and model shared plenty of cute photos and videos of her baby boy while he was still in her belly — including one particularly lovely clip of Billy getting his first on-stage shoutout from his Dad while he was performing with The Beach Boys.
One thing that seems more than clear at this point, though? Stamos is absolutely loving fatherhood. In April, he told People that being a dad is "more beautiful than anyone told [him] it would be," and in an interview with Ryan Seacrest, Stamos said that his own late father — and Billy's namesake — has been a huge inspiration. He said,
I hope I live up to what my dad did. You know how you get to a point where you go, 'My dad's just a man?' I never got to that point. He was always bigger than life to me so I'm happy to honor him with our little Billy. I'm starting to cry right now, Ryan, I'm so emotional.
Given how much Stamos seems to have long wanted to become a dad, seeing him get the chance to dote over his little boy is so heartwarming. And while I'm still not sure that anything will top watching Uncle Jesse become a dad to twin boys, Nicky and Alex, in my '90s kid heart, seeing him show off his real-life son to Lori Loughlin and Bob Saget does at least come pretty close.