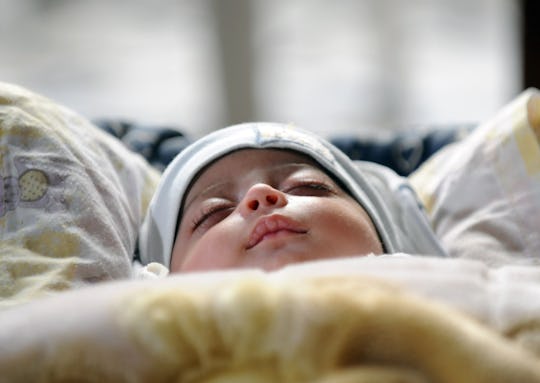 BULENT KILIC/AFP/Getty Images
The Reason Why Most Moms *Still* Don't Put Their Babies To Sleep On Their Backs
For more than 20 years, health officials and advocates have been diligently reaching out to new and expectant parents in a nationwide campaign to promote safe sleeping positions for infants. Solid research has advised parents to place babies on their backs, not on their sides or stomachs. Or keep them in the room with their mother, but not in the same bed. And avoid soft bedding that could possibly strangle or suffocate them. But when it comes to that first piece of advice, new research suggests that the majority of Americans moms don't put babies to sleep on their backs for every nap and bedtime. Rather, according to the study, only 43.7 percent of them reported that they intend to use this method and actually do so on a regular basis.
While the findings were unsettling, the bigger hurdle was to understand why some moms couldn't follow those guidelines every time as it could be they key to actually changing their behavior, researchers told CNN.
The study, conducted by researchers from Yale School of Medicine and published this week in the medical journal Pediatrics, surveyed 3,297 mothers of infants age 2 to 6 months. According to the journal, the authors asked the new mothers about the infant sleeping position they intended to use, the one they used most often, and why it was their chosen method.
Surprisingly, they discovered that more often than not, plans for infant sleep don't tend to agree with what moms chose in the moment. As noted previously, nearly 44 percent of new mothers intended to use back sleeping and did it all the time. But, a clear majority — 77 percent of mothers surveyed — told study authors that they intended to use the position and usually, but not always, followed through with it.
Here's how pediatrics professor and study co-author Dr. Eve Colson explained it to CNN:
What was new and hadn't been explored before was this idea of what people intended to do versus what they actually do. What we found was that people intended to put their baby on their back but didn't always do that.
The study also found that African American mothers were least likely to use back sleeping. That's a disturbing finding, considering that black babies die at a rate twice that of their white counterparts, according to recent research. And despite efforts to close the racial gap on infant mortality, health officials fear that the rate of African American babies dying before 1 year old is rising, rather than falling.
But the real surprise for researchers was in the reasons that mothers gave for not putting their newborns to sleep on their backs, according to the CNN report.
So, why do more than half of moms ignore "safe sleep" guidelines? Many of them said they felt the decision really wasn't theirs to make. In fact, women who said it was up to the baby — or even another family member — to establish the most comfortable sleeping position were more likely to place their infants on their stomachs, according to the study.
In addition, some responders cited information from family members and others that fueled a mistaken belief that back sleeping promotes choking or isn't the most comfortable sleeping position for a newborn.
According to the Centers for Disease Control and Prevention, each year roughly 3,700 American infants die for sudden, unexpected reasons. And despite a 23-year-old education campaign on ways to lower the risk for babies, in reality many moms don't feel empowered in the moment to make that decision for their infants.
That may seem disheartening, but it could also be an opportunity: Moms are hearing the information from health officials, but may not feel supported when faced with family members working from outdated information. Mothers need more than just the facts about back sleeping — they need support in their decision-making. That shift might seem small, but this study suggests it could save millions of babies.