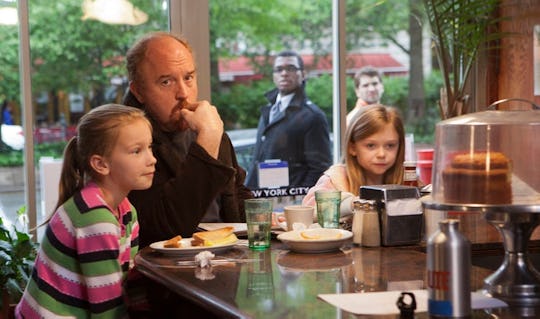 FX
Louis CK's Role As America's Lovable Dad Saved Him From Scrutiny... Until Now
Hello there. Hi. It's me. Someone who loved Louie. The show. Or Louis, the guy. I don't know which either. The TV Louie, or the standup Louis, both are a variety of funny dad, the harmless, bumbling guy who has two little girls and uses his comedy to call men out on their bullsh*t. The dad who can't possibly be a sexual predator. Until we allowed that possibility to exist. Today, five women, including comedy duo Dana Min Goodman and Julia Wolov, have come forward to allege that Louis CK engaged in sexual misconduct in a piece reported on by The New York Times. Were the clues there already? Yes, if you've watched CK's comedy. So why did we ignore it? Because, you know, he's a dad. *Louis shrug*
There is something touching about a good dad. Single moms are harangued by character judgments and the idea that they're not there enough for their kids, but we see a guy like Louis CK dropping his kids off at school, and we think, "Now there is a dad going the extra distance, in a grotty t-shirt." This is what I thought at the height of Louis-dom, when I worked in the West Village — heart of the Louis universe — and Pamela Adlon and those amazing young actresses Hadley Delany and Ursula Parker were onscreen, adding dimension and a veneer of feminism to his show.
Around this time, there was a blind item circulated by Gawker regarding a famous comic who supposedly masturbated in front of an unwilling female comedy duo at the Aspen Comedy Festival. This item seemed to sink with Peter Thiel's assault on Gawker. Later, there was the ambiguous rape scene in a Louis episode with Adlon that reverberated with an uneasy sense of reality. "God, you can't even rape well," her character spits at CK's as he chases her around the room. But we all hung on, convinced that he was speaking some kind of truth to power — after all, George Carlin liked him, and we liked George Carlin, right?
This incident has been reported now as an alleged incident of sexual misconduct by the Times, alongside the stories of three other women, once of which is corroborated by Courtney Cox and David Arquette.
There is a lot of faux jerking off in comedy. I did standup open mics for a couple of years, and was constantly just being showered in imaginary jizz in whatever dank basement I sat. Louis CK perfected this. Every routine involves some smooth hand-job motion, out in the open — like watching muscle memory in action.
There is the careless littering of imaginary cum — realm of the single, male danger to women — and then there are the daughters who disarm CK's danger, who allow CK to answer to whatever his shortcomings might be. Structurally, on the show, he goes down to the Comedy Cellar to do his dirty work, then traipses home to try and be a better father, again and again. That's the title sequence: Louis hauling himself up the subway stairs out of some grotty underground.
In one episode, he manages to lose his kid on the subway, and we see the utter fear that seizes him as he shuttles uptown, helpless. As parents, doesn't that speak to us! Isn't a single dad a lot like a single mom, or at least a half-involved two-parent-home dad? Women do a lot of clapping back at CK on the show — CK brought on sharp-edged actors like Gaby Hoffman, Parker Posey, Sarah Silverman, Amy Poehler, Melissa Leo to challenge and prod his character. Posey drags him up several flights of stairs. Leo climbs onto him in a car. His TV daughters tease him and demand more of him. They're there to signal something vulnerable about him, as well as his intent to be a better guy.
But you can be a devoted parent and a sh*tty man, as we are calling them in 2017. And the power of Louis' feminist comedy is undermined if he has used his power to intimidate and harass. The offense is in fact greater if he has used young girls to camouflage his own acts of violence against women. I've taken a good look at Louie and Louis, and I've decided I don't like either.
Editor's Note: An earlier version of this piece incorrectly stated that Dana Min Goodman and Julia Wolov were members of the comedy duo Garfunkel and Oates; Goodman and Wolov are the duo behind MTV's Faking It.