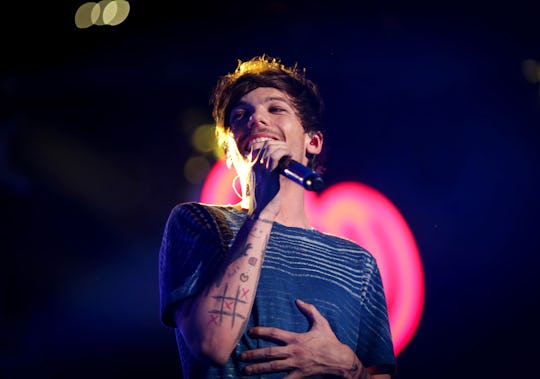 Christopher Polk/Getty Images
Louis Tomlinson Named His Baby & It's Not The Most Unusual Choice We've Ever Heard
No one can stop talking about Louis Tomlinson's new baby boy — but now it's because everyone's too busy snarking about the little one's name. According to UK tabloid The Sun, Tomlinson and Briana Jungwirth named their baby Sydney Rain... which is a little unusual, but actually sort of cool. Sydney sounds dignified, right? It's not like celebs don't come up with unique monikers for their children all the time. Kim Kardashian and Kanye West's children are named North and Saint. Those are more unorthodox than "Rain" for sure.
Although he announced the birth yesterday, the One Direction singer didn't make any statement about whether the baby would take his or Jungwirth's surname, since they are no longer together and will share custody of their child.
In the British tabloids, there's been some speculation that the new parents are fighting over custody. The same anonymous source who divulged the information about the baby's name told The Sun that Jungwirth's family has "exaggerated expectations of what Louis should be contributing every month." That's a different story than the one People reported this weekend. Over here, they reported that Briana and Louis have remained "very close" friends.
Either way, Tomlinson's family is, not surprisingly, pretty stoked about the arrival. Tomlinson tweeted, "daddy daddy cool" Saturday morning following a previous tweet announcing the birth. His stepfather also got in on the baby news, writing "is that the patter of tiny feet?" on social media.
The 24-year-old father announced the arrival of his son by writing, "I'm pleased to say my baby son was born yesterday." He went on to tell fans that "he is healthy and pretty amazing. I'm very happy."
All things considered, "Sydney Rain" is probably the best choice for such a unique, chattered-about kid. If you think about it, Tomlinson could have easily picked the name "Royal Reign", "Buzz Michaelangelo", or even "Pilot Inspektor" or "Kal-El" (seriously, Nic Cage?), and no one would have batted an eye. In the little tot's defense, "Sydney Rain" sounds pretty angelic.
Of course, over on social media, Directioners were blissfully happy for the couple — because of course they were — and they probably would have been just as excited, even if Tomlinson and Jungwirth had picked the name "Blanket." (Thank you for not naming your kid "Blanket", Louis.)
Tomlinson and Jungwirth will definitely have lots of time to spend with the new baby as well, since One Direction confirmed recently that its hiatus would be an indefinite one. But that just means Louis and Sydney will have plenty of bonding time too — and you can't be mad about that.
Image: Christopher Polk/Getty Images