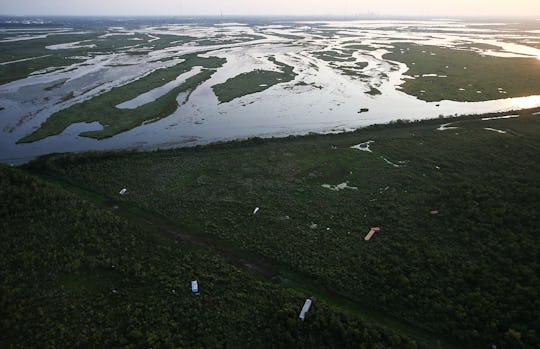 Mario Tama/Getty Images News/Getty Images
Louisiana Flooding Has Displaced 3,000 People, But The Rains Aren't Letting Up
Tragedy has struck the southern part of Louisiana. As it continues to rain in the Pelican State, more and more people are left abandoned, wondering what to do next. Overall, the Louisiana flooding has displaced 3,000 people and the devastating conditions will likely only continue to get worse.
According to NBC News, more than 1,000 people have been rescued from the "historic flooding" and three people have died. The rainfall began on Friday with "between 6 and 10 inches of rain falling on parts in southeast Louisiana." Rain continued to fall on Saturday and according to NBC News, forecasters predict that parts of Louisiana could continue to see heavy rain well into next week.
The heavy rain is causing the flooding of rivers and creeks, that will "affect homes, roads, and driveways," according to CNN. Louisiana Gov. John Bel Edwards spoke about the devastation at a news conference on Saturday, according to CNN, saying, "This is a major disaster. This is an ongoing event and we are still in response mode."
On Friday, Edwards declared a state of emergency for the entire state of Louisiana that is to remain in effect until September 10.
"The most important thing to remember is to obey road signs and constantly monitor the news for updates to ensure everyone's safety. Every available resource will be used to assist citizens as this situation continues to unfold," Edwards said in a statement on the Governor's website.
According to USA Today, more than 1,000 motorists were stuck in floodwaters on Interstate 12 near Baton Rouge — this follows reports of people being stuck in their homes and having to climb out of windows to escape flooding.
Some rainfall totals have exceeded over 20 inches in different parishes throughout the state — this is compared to the reported average rainfall for the state in August, which is typically 5.82 inches. According to CNN meteorologist, Derek Van Dam, the heaviest rainfall is behind Louisiana — but rain is projected to have a continued chance of falling. According to Van Dam, "The ground is extremely saturated and any additional rainfall will cause more flooding." This could possibly displace more people and make relief efforts even more difficult.
But relief efforts are being made to help get food, water, and shelter to those displace. According to The Advocate, about 1,700 National Guardsmen have been mobilized and more are set to join in efforts.
"I am still asking people to be patient," Gov. Edwards said, according to Time. Edwards warned citizens to not go out and sight see, in spite of some areas being clearer than others.
As flood waters continue to rise, it is important to remember those who have lost everything in the flood's devastation and are waiting to be rescued. As rain continues to fall into this upcoming week, keeping national attention focused and assistance readily available is crucial.