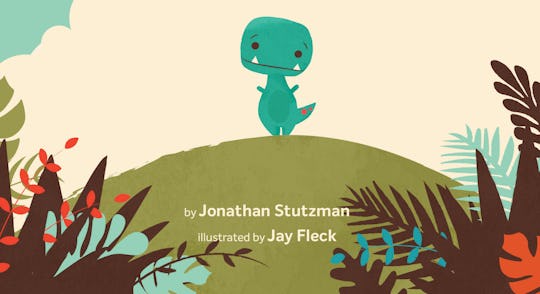 Chronicle Books
You Are Going To Love Tiny T. Rex — Get A SNEAK PEEK At The Lovable Tiny-Armed Hero
Kids go through phases. One week, your little one will only play with PAW Patrol paraphernalia; the next, they insist on sleeping with their bath toys. The good news is that when your kid's Eye of Sauron turns its gaze to dinosaurs (which it will at some point), you have a world of really great stories to complement all those velociraptor figurines. These picture books about dinosaurs — including a brilliant new title by Jonathan Stutzman that will be "stomping into hearts" on March 5 — will sustain your kiddo when their love of all things prehistoric hits.
According to The Cut, a third of all kids have an "intense interest" with dinosaurs at some point in their childhood, typically between the ages of 2 to 6. The appeal is obvious; dinosaurs are big, powerful creatures whose impossible bodies mirror toddlers' big emotions so well. And because they're extinct, kids get to imagine all the things they could have gotten up to, feeding into their natural love of make-believe. Jonathan Stutzman is fueling the dino-fandom with his upcoming release Tiny T. Rex and the Impossible Hug (Chronicle Books), about a baby tyrannosaurus rex who's on a mission to spread the love despite his small arms.
Even better, Romper has an exclusive sneak preview of the pint-sized dino-hero right here. Meet Tiny T. Rex!
His arms were too teeny to encircle a tree, nevertheless, he persisted:
Even better news: the story is the beginning of a series, so your little one will have even more dinosaur-themed books lining their shelves soon. In the meantime, you can pre-order Tiny R. Rex and the Impossible Hug to arrive the day it comes out.
Here is another leedle look at our hero:
So many feels packed into such a tiny frame!
You can read more about Tiny T-Rex below, and also get the goss on some other dino-mite (sorry, I had to) picture books.