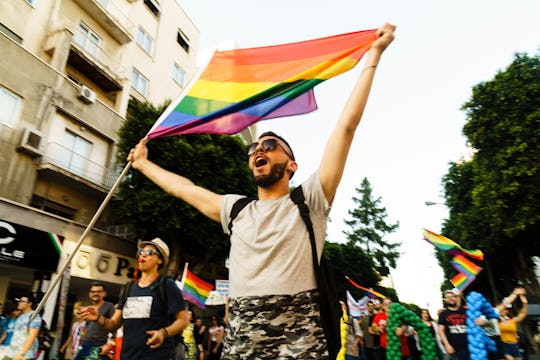 IAKOVOS HATZISTAVROU/AFP/Getty Images
#LoveIsLove Tweets That Will Give Anyone The Warm & Fuzzies
June is LGBT Pride Month and this year will be even more special because is the anniversary of the Supreme Court's ruling in favor of marriage equality. What better way to kick it off than with a message that love is love no matter who your bae happens to be? People from all nationalities and orientations are doing just that by taking to Twitter and spreading their support. All day Thursday, #LoveIsLove tweets lit up the internet and the messages in each of them are enough to give anyone the warm and fuzzies.
As tradition dictates, President Obama this week declared June to be the official Lesbian, Gay, Bisexual, and Transgender Pride Month, during which allies and the LGBTQ community could celebrate the many strides made toward equality in recent years.
"Last year's landmark Supreme Court decision guaranteeing marriage equality in all 50 States was a historic victory for LGBT Americans, ensuring dignity for same-sex couples and greater equality across State lines," the president wrote in his proclamation on Tuesday. He continued,
For every partnership that was not previously recognized under the law and for every American who was denied their basic civil rights, this monumental ruling instilled newfound hope, affirming the belief that we are all more free when we are treated as equals. LGBT individuals deserve to know their country stands beside them. That is why my Administration is striving to better understand the needs of LGBT adults and to provide affordable, welcoming, and supportive housing to aging LGBT Americans.
During Lesbian, Gay, Bisexual, and Transgender Pride Month, as Americans wave their flags of pride high and march boldly forward in parades and demonstrations, let us celebrate how far we have come and reaffirm our steadfast belief in the equal dignity of all Americans.
In honor of those sentiments, more than 600,000 tweets spread the #LoveIsLove manifesto from Russia to Spain and throughout the United States in the days following. The message was clear: Love knows no religion, gender or sexual orientation.
Here are some of the best so far:
This gentle reminder that love wins:
Because it's about human rights:
Ariana Grande Agrees:
One Direction gets it:
It's simple:
And while these tweets are melting everyone's hearts, the general hope is that, one day, they won't be necessary:
Wherever you are and whoever you love, join in support of LGBT pride and remind the world that #LoveIsLove, period.