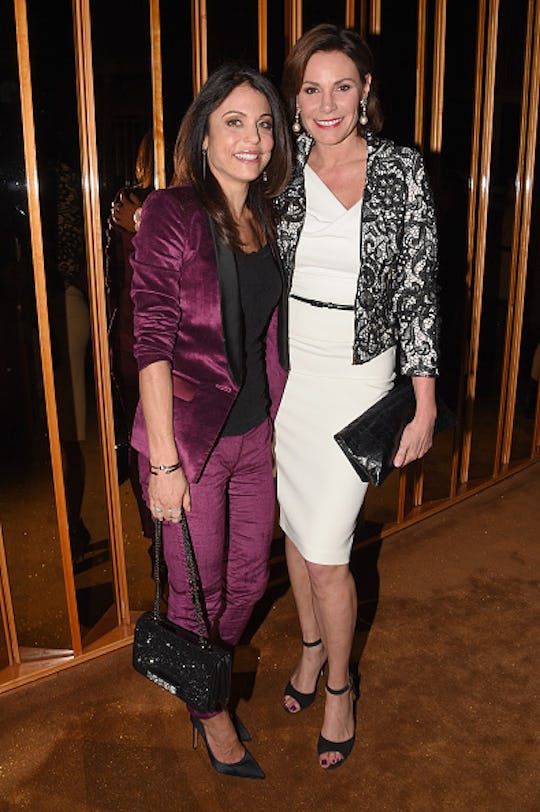 Andrew Walker/Getty
Luann & Bethenny Feud On 'Real Housewives Of New York,' But Is Either Right?
Wednesday's episode of The Real Housewives of New York was the third consecutive episode that centered around Dorinda's holiday party for the women in the Berkshires that went terribly, terribly wrong. The drama began with a quickly escalating fight between Luann de Lesseps and Bethenny Frankel that lasted for three solid episodes. Dorinda Medley chose not to invite Sonja Morgan to the party, thinking that her ongoing fight with Bethenny would cause tension in the group. Little did she know that Bethenny would get into it with another one of the ladies. But who is right in Bethenny and Luann's feud on Real Housewives?
It started with some fairly innocuous but quintessentially Luann comments, in which she said that Bethenny was copying her hairstyle, and implied that she somehow helped Bethenny come up with the name Skinnygirl, or rather, that she was present when Bethenny came up with it. Bethenny then started in by mocking Luann's assertion that she was also something of a mentor to Sonja. The argument quickly devolved into Bethenny absolutely laying into Luann, calling out her promiscuity, her drinking, and her hypocrisy. At the fight's lowest, Bethenny stooped to name-calling, calling Luann a slut and a whore. While this is definitely unacceptable, Luann was perhaps not as gracious as she could have been.
When trying to decide who's right in this argument, it's hard to take Bethenny's side. She may have been right in what she said, and maybe she had some valid points, but she was pretty out of line in her attack. Even Bethenny admits it. The next morning she told Carole Radziwill (apparently her new bestie) that it felt like she had a fight hangover. But it did feel like Bethenny had simply reached her breaking point with Luann. Luann's style of clap back is a little more subtle than Bethenny's. While Bethenny went in guns blazing, Luann responded with at times genuine hurt, and then passive aggressiveness. Her comments about Skinnygirl and Bethenny's hair were extremely aggravating to Bethenny, which is probably why Bethenny reacted the way that she did.
While I can't in good conscience take Bethenny's side on this one, I do understand how Luann can rub her the wrong way. I just hope at their next meeting, everyone remembers that they're adults.