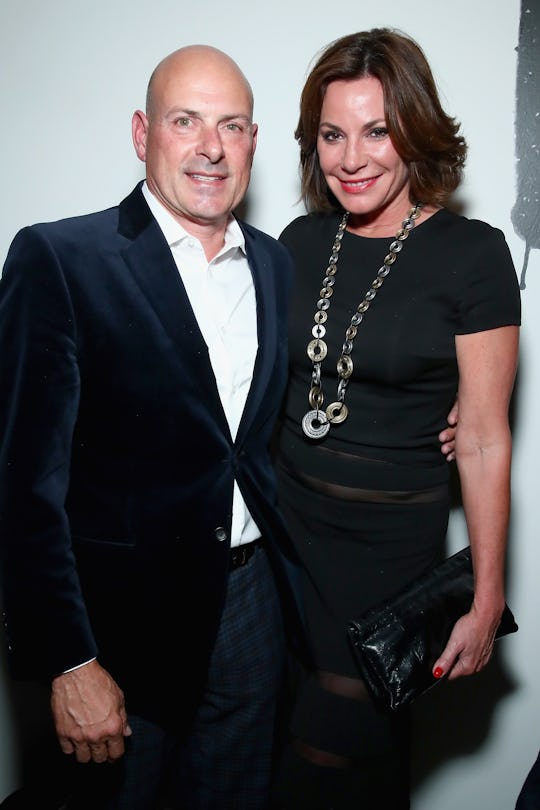 Astrid Stawiarz/Getty Images Entertainment/Getty Images
Luann & Tom D'Agostino's Marriage Is Coming To An End
Sadly, after a very public marriage, cheating scandal, and several contentious Real Housewives of New York City episodes, Luann and Tom D'Agostino are divorcing just seven months after they tied the knot. Luann announced the split on Twitter on Thursday afternoon. Frankly, it would be disingenuous to suggest that this comes as much of a surprise to anyone who even casually follows all the drama on The Real Housewives of New York. The couple's relationship began fraught with issues, as Tom had been known to date at least two of the other women on the show, Sonja Morgan and Ramona Singer. Nevertheless, the relationship progressed quickly, with the couple getting engaged just a few weeks after they had begun dating.
Questions about the relationship between the two started immediately, particularly among Luann's Real Housewives castmates, almost all of whom expressed concern. The Tom and Luann plotline has been going strong for almost two seasons now, while Luann consistently insisted that she and Tom were very much in love, and that the other women should stop bringing it up and casting aspersions on her relationship. Throughout all the hoopla attending it, Luann genuinely seemed very happy to get married and excited about her wedding plans.
The biggest shocker on the show, of course, came when Bethenny discovered evidence that Tom had cheated on Luann at least once, with a photo of him kissing another woman at the Regency Hotel a mere days after their engagement. However, Luann and Tom agreed to move past the incident. Luann constantly said that she was not going to let one little kiss ruin their lives.
Yet there were other rumors not propagated by the other New York City Wives. A recent story in the New York Post alleged that the couple got into a very public fight in an upscale restaurant that ended in Luann slapping her new husband, which she denied on Watch What Happens Live. Another Page 6 story said that Tom almost called the wedding off the night before it happened. I cannot confirm or deny any of this, but it is clear that the marriage was rocky from the beginning.
It might have been easy to see coming, but this is truly a very heartbreaking thing to happen in anyone's life. And it is all the more painful to Luann because all of it, including the fights and the infidelity, was incredibly public. It didn't work out the way Luann had hoped it would, but I definitely wish her all the luck and happiness in the world.