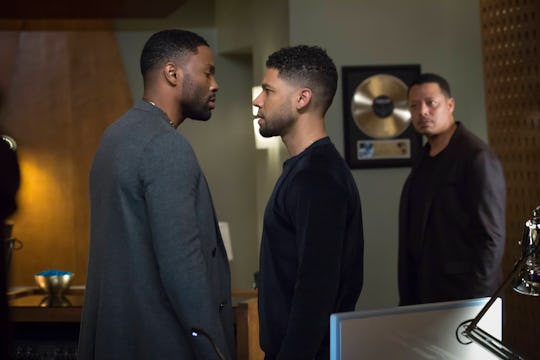 Chuck Hodes/FOX
Lucious' Comments About Jamal's Sexuality On 'Empire' Show A New Low For The Mogul
To say that Lucious and Jamal have had a tumultuous relationship would be an understatement. In case your memory is a bit foggy, Lucious wasn't exactly accepting of his son when he first came out of the closet. But after a long period of tension and hostility between the two, it seemed they had finally smoothed things over and reached a positive place in their relationship. Unfortunately, this is no longer the case. I think it's safe to assume that Lucious' comments about Jamal's sexuality on this week's episode of Empire have ruined the pair's relationship for good.
The altercation came out of nowhere, really. It all started when Lucious walked in on Jamal and music producer D-Major in an intimate position. D-Major isn't exactly open about his sexuality, so he pretended that Jamal was forcefully coming onto him when Lucious arrived. Even though Lucious knew what was going on in the situation, it didn't matter. The chain of events that followed included Lucious spewing hateful, homophobic comments about.
After scolding Jamal for being disrespectful on his own father's turf, Lucious proceeds to admit that it's difficult for him to accept his son's "unnatural" way of life, clearly throwing major shade at his sexuality. The straw that broke the camel's back, though, was his final comment. "The day you die from AIDS, I'm going to celebrate." Did he really just say that?
There are some instances that you can't bounce back from, and this is one of those cases. Jamal is never going to be able to unhear these words — the damage has been done. It will be interesting to see the inevitable downward spiral that their father son relationship will now head down. Of course, the episode ended with Jamal's life hanging by a thread after taking a bullet for his father, so whatever is to follow will certainly be something to watch.
Will Jamal completely cut ties with Lucious? Or will his (hopefully) close call to death bring them back together?