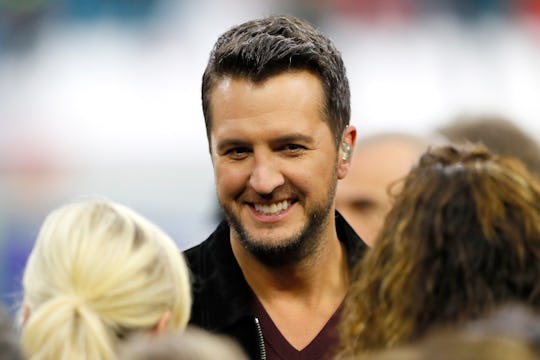 Kevin C. Cox/Getty Images Sport/Getty Images
Luke Bryan's Infant Niece Has Died
In a heartbreaking update this week, country music superstar Luke Bryan's niece, Sadie Brett, died on Wednesday, after a long battle with an undisclosed illness. The baby girl was reportedly suffering from a liver infection and heart issues at the time of her death. Bryan shared a heartfelt message with fans on Twitter Wednesday, thanking them for their support.
While relatively little information is known about Sadie's condition, her mother, Bryan's sister-in-law, Ellen Boyer, has posted various updates on the health of her baby girl through her Facebook page over the months. Sadie was born during the summer of 2016, and has had continuous health issues since. While no concrete information about what illness Sadie struggled with, Boyer revealed the infant had undergone dialysis, meaning she had issues with her kidneys, amongst other problems. Boyer's final Facebook update on the little girl's health came Monday afternoon, when she wrote, "Please flood the heavens with prayers. We will not give up on our tough, brave Brett." This news came just days after Boyer informed readers that Sadie had been having the "best week this year." After such sad news, Bryan's tweet is heartwarming, as followers have since been flooding the singer's feed with prayers, support, and kind words.
Bryan's family has remained pretty quiet about baby Sadie's health, which is totally understandable. Tragedy impacts everyone, even celebrities, and they deserve privacy during trying times. Especially considering that Bryan and his family are no strangers to unexpected misfortune.
Bryan lost his older brother, Chris, back in 1996 due to a car accident. His sister, Kelly also passed away in 2007, though the cause of her death is not public knowledge. Bryan and his wife, Caroline, took in their nephew, Kelly's son Til, after Kelly's husband, Ben Lee Cheshire, died in 2014.
Clearly, Bryan has been through a lot, and his deeply personal song lyrics reveal his hard past.
Speaking to People, Bryan said "I don't like that my sons are missing that side of my family. But someone else is deciding things," about the deaths of his two siblings. It can't be easy for Bryan and his family to deal with another loss, especially that of a child, but he's made it very clear that he is rooted in his faith and will remain strong through it all.
Our thoughts and prayers are with you and your family, as well, Luke. This can't be easy, and we hope you find comfort in this time of adversity.