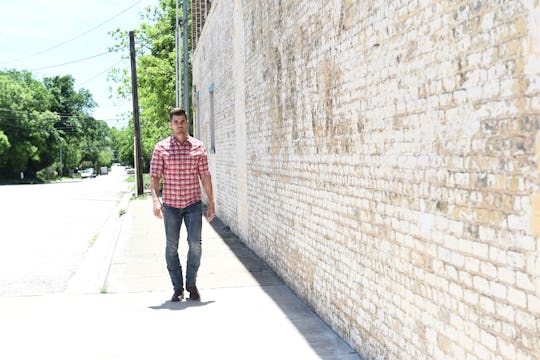 Felicia Graham/ABC
Luke Pell Is The 2017 'Bachelor' If This One Clue Means Anything
There has been a lot of speculation about just who will snag the next Bachelor spot. For some it's an honor that's probably even higher than a win; instead of merely embarking on a new relationship , they get a season of attention all to themselves. Knowing the next Bachelor will be culled from the current crop of JoJo's suitors puts fans on edge for hints about how things will go in the upcoming season. For a minute it really looked like James Taylor could be the guy; a nice guy who never gets the girl would be a solid narrative for the show to follow. However, the one clue that Luke Pell is the 2017 Bachelor is just too convincing.
It all has to do with Luke's last minute confession of love. He had a picture perfect hometown date with JoJo, surrounded by people who loved and supported him with some seriously pretty stage dressing in the way of a sunset backdrop that almost stole the show from him and JoJo. It was like something from a movie, so it was really surprising that JoJo was prepared to let him go afterwards. The problem was that Luke hadn't yet told her he loved her, which he interrupted the rose ceremony just in time to do. However, instead of saving him from elimination, this could be the very thing that spins him into his own season of The Bachelor.
Shows like this are all about crafting a narrative that makes the viewer want to root for the person searching for love. JoJo had a great one herself: after Ben told her he loved her, he pulled the rug out from under her by choosing someone else. That primed her for her own journey towards recovering from her heartbreak and finding someone who deserved her. This situation could do the exact same thing for Luke. His last minute confession paints him in a very favorable light, proving that he's committed to this as well as capable of some romantic dramatic gestures – which is just what someone has to do on a show like this.
If JoJo still decides to send Luke home, then that heartbreak – coming right after the moment when Luke put himself out there the most – is a great narrative for him. It could make the audience care for him even more as he undertakes his own journey towards (you guessed it) recovering from his broken heart and finding love again. It would make fans root for Luke.
It remains to be seen whether Luke will officially snag the spot as the next Bachelor, but producers have set him up with a winning story if that is the case.