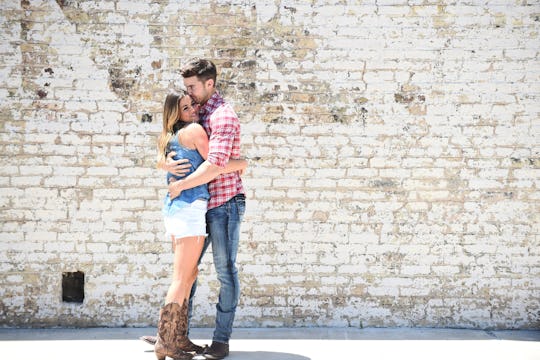 Felicia Graham/ABC
Luke Pell's Music Before 'The Bachelorette' Is A Hint Of Things To Come
You might not know Luke Pell is a musician just from watching The Bachelorette. When speaking of anything career-related, he mostly brings up his time in the military, and he certainly doesn't pull out his guitar as aggressively as James Taylor did. But Luke is indeed a burgeoning country singer with a couple of songs thrown up on iTunes for the taking. There isn't a whole lot available to get a sense of him as a musician, but Luke Pell's music before The Bachelorette can give you a hint of things sure to come.
Luke only has a few songs out there for listening right now ("Tungsten Steel," "Hand Me Down Chevrolet," and "Fall of Me"), two of which can be previewed on his YouTube channel. The titles of the songs sound real country, but as a person who does not particularly listen to country music, I cannot offer an informed opinion on Luke's output. There is a guitar and singing and it's all very twangy. He's even joined up with fellow Bachelorette guitar-twanger James for performances. He might not make a huge fuss over his musical stylings on the show, but it's clearly a dream he is intent on following.
A little digging produces a profile on Gigmasters.com from Luke's days as a gig musician performing at weddings and get-togethers. His bio on the website lists his musical influences as George Strait, Garth Brooks, Cross Canadian Ragweed, The Black Crows, and Lynyrd Skynryd, but once again – someone with deeper country knowledge than me is going to have to make the call about whether or not any of that influence shows up in his songs. The bio also boasts some pretty heavy claims: "This library of influences mixed with the lyrical testaments of the roller coaster of life experiences Luke has been through personally produces the truly unique, transcending Texas sound you hear from his music." So, he's humble.
All nine reviews on the site (the most recent of which is from January of this year) gave Luke five stars for his performances, complete with glowing recommendations. Randall G. enthused that Luke and his band gave him "the best 40th party ever!" Erica P. looked forward to having the band back again next year (booking might be trickier these days, Erica). Kelly H. seemed to sum up the consensus on the site when she wrote that the band were "consummate professionals, accommodating, talented and highly entertaining. The amount of compliments received on them overwhelming. I would strongly recommend you hire them for your event."
Considering how strongly Kelly H. is repping for Luke, you should probably give his transcending Texas tunes a listen. It couldn't be the worst couple minutes of your day.