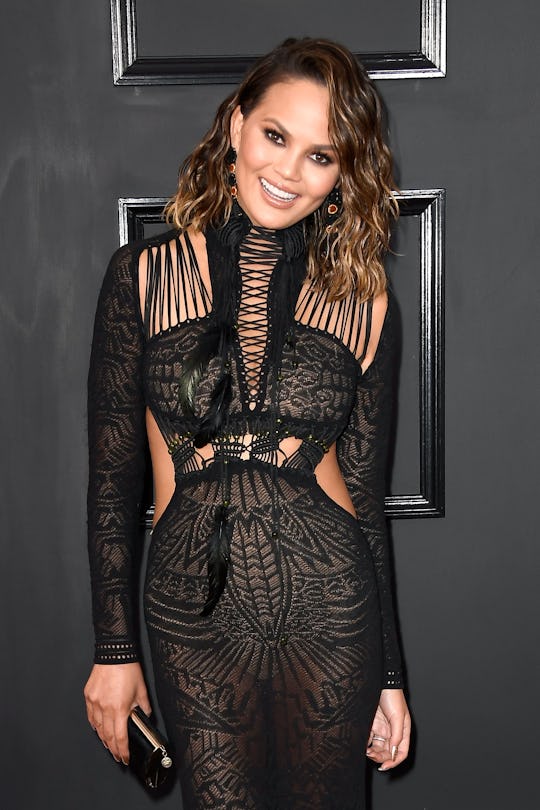 Frazer Harrison/Getty Images Entertainment/Getty Images
Chrissy Teigen & Luna Just Won Valentine's Day
Well, the internet's best friend and cool mom extraordinaire Chrissy Teigen has once again succeeded in gifting us with something warm and fuzzy to take our minds off of the terrifying state of the world. Yes, that's right. Chrissy Teigen's daughter Luna learned how to blow kisses just in time for Valentine's Day. Forget flowers, chocolates, singing telegrams, hot air balloon rides, and boomboxes hoisted above heads. This is the best Valentine's Day gift ever.
The 31-year-old model, cookbook author, and general social media wizard gave birth to Luna, her daughter with singer John Legend, back in April. People have been "aww-ing" over Little Luna Legend (and her epic-sounding name) ever since. Most recently, Luna decided to ignore President Donald Trump's inauguration in favor of crawling around on the floor, waving hello, and then sticking that waving hand right into her mouth. Teigen, of course, shared the video on Twitter, to the delight of some 50,000 people.
And on Monday, Teigen shared a snap of Luna blowing kisses like a pro, with the caption, "after 3 months of trying to get her to blow kisses, she finally does it for the valentine's snap ahhhh." Since Teigen posted the snap, thousands of hearts and ovaries have likely exploded from cuteness overload.
Watch it. And then, go ahead and watch it again.
Teigen and Legend married in 2013, and struggled to have children for years before going the in vitro fertilization (IVF) route. They've since been outspoken about how glad they are that they took that option, with Legend telling Newsweek,
There are some who look down on people that have fertility issues and need to use IVF. We have had fertility issues for years and had to use IVF. Some people can't reproduce naturally. We're glad we had Luna the way we did, and hopefully we'll have a few more kids through IVF.
And judging from a recent Teigen tweet, Luna may soon have a new sibling with whom to share the spotlight. (Perhaps she can pass on some cuteness tips, or her blowing kisses technique.) After some increased public speculation, Teigen recently tweeted, "Since this is coming up again, I said our next baby would be a boy because that is the embryo we have left. A boy. So. Yeah." (She later followed up to clarify with, "And no, I am not pregnant.")
Thank goodness for Teigen, Legend, and their adorable little family — and happy Valentine's Day to us all.