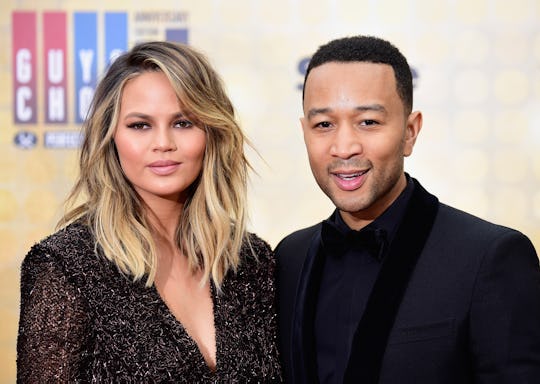 Frazer Harrison/Getty Images Entertainment/Getty Images
Luna & John Legend Look Exactly Alike In Chrissy Teigen's Latest Instagram Post
On Monday, model turned mom Chrissy Teigen posted new photos of her daughter Luna Simone to Instagram — and boy howdy, they are cute overload. As fans have watched Luna grow up on Teigen and husband John Legend's Instagram feeds, there's no denying two very important things: First, that Luna might be the cutest baby on Instagram right now and second, Luna and John Legend look exactly alike. And this isn't some just "Oh, she has her daddy's eyes" kind of look alikeness either: Luna is basically Legend's Mini Me.
Luna's life has been lovingly documented by both of her parents on Instagram since she was born, and Teigen and Legend are happy to share their sweet daughter's baby photos with the world. Teigen shared two photos of Luna Monday afternoon. In the first, Luna is sprawled out on a super comfy looking furry blanket. In the second Instagram pic, Luna made tummy time look effortless as she props herself up in a little pink onesie. Luna Simone is already growing up so fast: Teigen and Legend welcomed their first child together back in April. It's hard to believe that Luna will be 6 months old in just a couple of weeks from now!
First of all: Those little baby cheeks. Those adorable baby toes! And um, where can I get one of those blankets because that looks comfortable as all get out? Even with Luna's light wisps of hair, she totally looks just like her daddy in this photo — especially with those soulful looking eyes and knowing half smile. But the photo that really shows off just how much Legend and his daughter look alike is this one:
I totally miss those early infant months as baby discovers the world around them. You could caption this photo, "Look out world, here I come!" but Teigen captioned both this and her other photo with a simple baby face emoji.
By the way, if you're not convinced that Luna and Legend look alike, consider this side-by-side comparison of their two baby photos. Legend and Teigen both shared one of Legend's old baby photos on each of their Instagram accounts: Luna is on the left, Legend is on the right.
Okay, I'll concede that Legend is definitely rocking some more baby fat (and a baby bum!) compared to Luna — but seriously, how adorable are these two? And Luna also looks like her daddy all grown up, too:
Oh man, cuteness overload. I can't handle it.