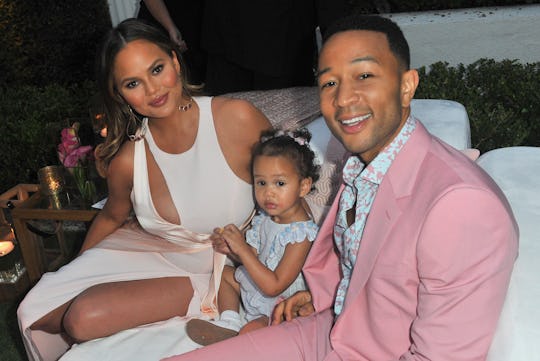 Jerod Harris/Getty Images Entertainment/Getty Images
2-Year-Old Luna Had The *Funniest* Reaction To John Legend's Vocal Warm-Ups — VIDEO
It's no secret John Legend and Chrissy Teigen's 2-year-old daughter Luna is one of the most adorable celebrity kids around. From Luna encouraging Teigen to breastfeed her babydoll to the love she shows her 1-month-old brother, Miles, the celeb kid is too cute for words. But similarly to many toddlers out there, Luna can be a bit ruthless at times. Want proof? Look no further than Luna's horrified reaction to John Legend's vocal warm-ups. And if you're a parent to a toddler, there's a good chance you'll find Luna's shade pretty darn relatable.
Teigen is perhaps one of the most accessible celebrity parents around. Case in point: On Tuesday, she took to Twitter to share a funny video of Luna reacting to Legend stretching out his vocal chords. The short clip begins with Legend singing outside of his dressing room. Within seconds, little Luna toddles out to scold her dad for tainting the air with his so-called talent. "No," Luna hilariously tells Legend.
Of course, Legend doesn't pay any mind to Luna and he continues to sing — a decision that enrages the 2-year-old. "No, no, no," Luna screams as she pushes Legend's leg with her tiny hand.
Teigen summed up the scene perfectly in her caption of the video, writing: "#Two." Preach, sister.
Shortly after Teigen shared the video, fans shared their own anecdotes of toddler tyranny.
"My daughter used to lose her mind if anyone anywhere sang 'Happy Birthday,'" one parent penned on Twitter. "Going out to dinner, I would live in fear of the wait staff coming out and singing to some celebrating patron."
"My two-year-old doesn't let my husband sing either," another person chimed in.
"My #TWO year old seriously does the exact same thing almost anytime I start to sing. She's a major hater right now. What's the deal?" one commenter joked.
Ha. It's obvious toddlers can be cold-blooded with their opinions. And it just goes to show famous parents aren't immune from scrutiny. While many people consider Legend to be one of the most talented singers around, to Luna he's nothing more than an annoyance. You've got to love it.
Speaking of famous parents, Pink is all too familiar with toddler shade herself. Pink spoke about her experience in May 2016 in an interview about her now 7-year-old daughter, Willow. "I can tell she [Willow] likes [my new song] not because she tells me she likes it because she would never do that. She finds my singing distracting, Pink joked, according to Us Weekly. "When she was 2, she was like, 'Shh, Mama, terrible voice.' First of all, who taught you the word terrible?"
It sounds like Willow and Luna could be best of friends one day, right? They both know to hit where it hurts.
In Luna's case, however, she might have learned her cutthroat behavior from Teigen. "I know he has a beautiful voice and I know I am 'soooooo lucky' and blah blah but john's vocal warmups make me want to stab my brain," Teigen penned on Twitter in June 2017.
When a fan reminded Teigen of her hysterical message, she couldn't help but consider her hand in Luna's heckling of Legend.
"I created this monster," Teigen wrote in response to the fan.
To be fair to Teigen and Luna, it's likely they're treated to Legend's vocal warm-ups on the regular. It's reasonable for Luna and Teigen to find Legend's singing tiring, even if it does sound beautiful. And it's also important to note the two aren't seriously making fun of Legend — the frustration is all in good fun. I'm sure Legend gets a kick out of Luna's irritated response to his singing. And on that note, keep the honest opinions coming, Luna.