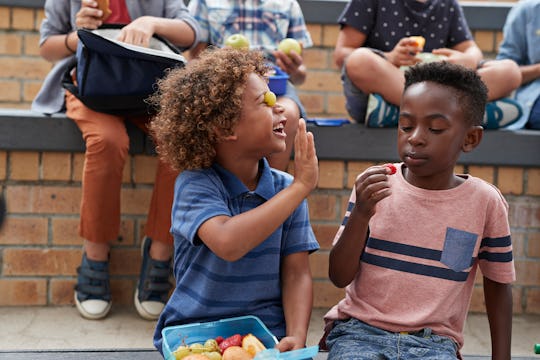 Klaus Vedfelt/Getty
15 Easy-To-Open Lunch Boxes Your Pre-Schooler Can Handle On Their Own
Remember the thrill of opening up your lunch box to see what your parents had packed you when you were a kid? You don't have to wait until your child is in elementary school to give them the same lunchtime excitement because there are so many lunch boxes pre-school kids can open on their own without any help from their teacher.
With so many lunch box options for kids, it's easy to get quickly overwhelmed. The amount of bells and whistles on some of them is honestly kind of mind-blowing, so it's understandable if you take a quick look and assume your pre-schooler won't be able to operate any of them. However, there are still some lunch boxes out there that young kids can certainly work. Plus, they'll feel like a big kid when they do it all by themselves.
The key to finding the right lunch box for a pre-schooler is to look for a combination of whimsy and simplicity. They're going to want something to match their personality, whether its a monogram or their favorite cartoon character, and something with one entry point, easy to access pockets, and enough space for all of their food to fit (ideally, without touching). It may take some hunting to find the right one, but it'll be worth it when you do. If you're not sure where to start, here are some great options your pre-schooler will love.
We only include products that have been independently selected by Romper's editorial team. However, we may receive a portion of sales if you purchase a product through a link in this article.