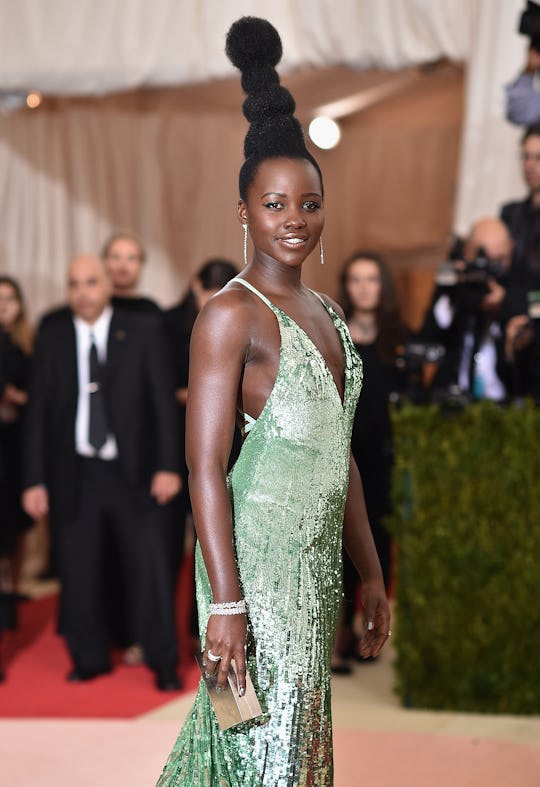 Dimitrios Kambouris/Getty Images Entertainment/Getty Images
Lupita Nyong'o Calls Out Vogue For Misattributing Her Met Gala Hair Like A Boss
Many black women are forcefully and rightfully resisting the cultural norm that dictates that a white standard of beauty is an appropriate barometer with which to evaluate a woman's attractiveness and worth — and on Wednesday, Academy Award-winner Lupita Nyong'o joined those ranks, much to everyone's delight. To be clear, no woman should be judged by her appearance, but Nyong'o is reiterating the importance of representation for black women and girls and celebrating their bodies, skin, and hair. So, naturally, Nyong'o called out Vogue for misattributing her Met Gala hair like a boss after the magazine compared her "sky-scraping style" to that of Audrey Hepburn following the glamorous Monday night event.
Nyong'o looked gorgeous with her hair pulled up high over her head in a seemingly gravity-defying 'do and a shimmery jade gown meant to correspond with the night's official theme, "Manus x Machina: Fashion in an Age of Technology." On Tuesday, Vogue's Laird Borelli Persson noted that although Nyong'o had mentioned inspirations for her look ranging from The Matrix to Nina Simone, she added, "The sculptural style is also reminiscent of the updo Audrey Hepburn sported in a 1963 Vogue shoot." The post is titled "Is Lupita Nyong'o the New Audrey Hepburn? Celebrating the Star's Met Gala Hair."
Ever classy, the 12 Years A Slave actress gracefully diverted the comparison from the white starlet of past generations on Instagram, redirecting the focus instead on her real inspiration. "Hair Inspiration," she wrote in the caption. "Check."
The post leaves no question that Nyong'o drew her inspiration from black and African women rather than Hepburn. Nyong'o rightfully does not feel any need to validate her appearance through the lens of white standards.
After being awarded the Best Breakthrough Performance Award at Essence's Black Women in Hollywood Luncheon in 2014, Nyong'o gave a speech about how it's imperative that all types of beauty be represented in popular culture, even referencing her own self-hate and desire for lighter skin as a girl and teenager:
Around me, the preference for light skin prevailed. To the beholders that I thought mattered, I was still un-beautiful ... Finally, I realized that beauty was not a thing that I could acquire or consume. It was something I just had to be.
In an excellent essay for Romper, Margaret E. Jacobsen similarly explains why she tells her black daughter that she is beautiful every single day:
We're taught early on that our skin — the shade that differs in so many hues of blacks and browns and tans — isn't beautiful, but have you seen the way our colors come alive? We're told that because our hair doesn't lay silky or straight it isn't considered beautiful, but our braids and locs are breathtaking. Oppressors have have shamed, policed, and sexualized our bodies, but they will not call our figures beautiful.
Nyong'o's reaction to the Audrey Hepburn comparison and her powerful, public words about representation could make a huge positive impact on little girls like Jacobsen's daughter, while proudly fighting the lie that there is only one way to be beautiful. It's a message that everyone, in all our diversity, can and should appreciate.