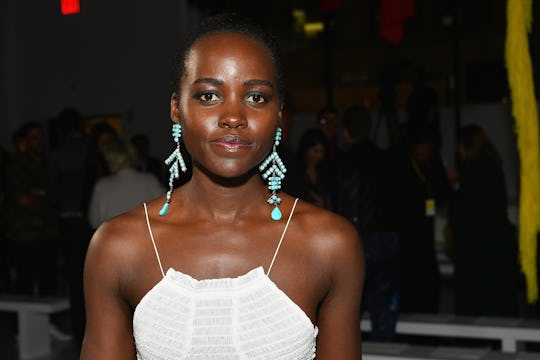 Dia Dipasupil/Getty Images Entertainment/Getty Images
Lupita Nyong'o Is Publishing Her First Children's Book & It Sounds So Inspiring
No matter how old you are, there are still several classic children's novels that will always warm your heart. When you're sick, lonely, or just feeling blue, they always seem to do the trick. For me, that book is The Kissing Hand. And now, a new option will be added to the mix of inspiring kids' tales, as the one and only Lupita Nyong'o is publishing a children's book, as The New York Times reported on Wednesday, and it's sure to be an instant classic.
You might know Nyong'o as the beautiful and talented Academy Award-winning actress who captivated audiences in 12 Years A Slave and collectively stole America's heart when she wore that dress to the Oscar's and then gave a speech that definitely made you cry. But the 34-year-old is known for so much more; Nyong'o has stood up for herself in more ways than one, criticizing magazines for editing her hair too much and even wrote a piece for The New York Times about her own alleged encounter with Harvey Weinstein amid all of the allegations being made against him. Romper has reached out to The Weinstein Company as well as Weinstein's attorney for comment on Nyong'o's piece in The New York Times and has not yet received a response.
So, considering all of the good Nyong'o has done, it makes sense that now, she's channeling her energy into something good for younger generations, too.
The New York Times first reported on Wednesday that Nyong'o is now working on a children's book, which will be published by Simon & Schuster Books for Young Readers and it will come out sometime in January 2019. Even though that may seem like a long while off, the children's book already has a title, and you're going to love it. Per The New York Times, Nyong'o's book will be named Sulwe, and it has an incredibly powerful meaning behind it.
You see, Nyong'o was born in Mexico City, but her parents are both Kenyan and she was raised in Kenya as well. So the title of her book, Sulwe, is so fitting as it has a Kenyan meaning, which is "star" in Nyong'o's langauge of Luo, as The New York Times explained. And, again, even though you and your family might have to wait roughly a year before reading the book, The New York Times was able to secure a short summary of what it's about:
The story of a 5-year-old girl growing up in Kenya. In the book, Sulwe has the darkest skin color in her family, a fact that makes her uncomfortable and determined to find a way to lighten her skin. As the story unfolds Sulwe embarks on a whimsical adventure in the night sky that, coupled with advice from her mother, helps her see beauty differently.
As fans of Nyong'o probably already know, the actress herself has struggled with her skin tone for years, and the issue is something close to her heart. Back in 2016, Nyong'o spoke out about the harsh criticism she has received in the entertainment industry, because of her skin color. According to E! News, Nyong'o claimed that a talent agent told her she would only make it a few years in Hollywood, telling Nyong'o, "Would Beyoncé be who she is if she didn't look like she does? Being lighter-skinned, more people can look at [Beyoncé's] image and see themselves in her."
But Nyong'o refused to give in to that self-doubt. "I cannot run away from who I am and my complexion or the larger society and how they may view that," she said, according to E! News. Clearly, the actress, activists, and author wants other darker-skinned children out there to know that they can accomplish anything they set their minds to, and that their skin tone shouldn't be anyone's concern. With her new children's book, Sulwe, Nyong'o will undoubtedly send that message and inspire countless children (and adults) everywhere. January 2019 can't come soon enough.
Check out Romper's new video series, Romper's Doula Diaries:
Watch full episodes of Romper's Doula Diaries on Facebook Watch.