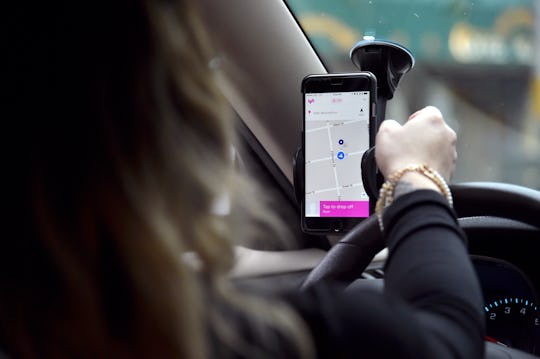 Mike Coppola/Getty Images Entertainment/Getty Images
Lyft Is Now Offering Car Seats For Parents
Traveling with children is always an ordeal, even if you're an old hand at it. Between foldable strollers, baby bags, and early morning meetings, getting around with children is not something one can really do on the fly. However, there is hope for parents — Lyft is now offering car seats for parents for a small surcharge. And when you need to get baby in the car as soon as humanly possible and don't have a ride, paying for a car seat is worth it.
The company announced the feature on Monday to customers only in the New York City area for now, to test it out. Parents in the city will be able to hit "car seat option," which fits one child and three grown ups. It'll cost $10 and the child has to be more than 1-year-old, the company says, since the seats aren't safe for anyone smaller than that. Even if your tot is over the age limit, they still have to be between 31 and 52 inches and weigh between 22 and 48 pounds.
Read: The liability is high when it comes to strapping in infants in cars. But for anyone who can meet the requirements in the test market, it's sort of a traveling miracle, especially for New Yorkers, who don't often own cars.
According to the company, the car seat is an IMMI Go, forward-facing car seat. They also claim that their drivers who offer this service will be required (and trained) to properly install and uninstall the seat at the end of the ride, but parents will be responsible for securing their child in the seat. Which is pretty reasonable.
Lyft assures customers that the drivers who opt into the car seat program have been trained by third-party child passenger safety technicians, following the guidelines of the National Child Passenger Safety Training Program.
For those parents not in the Big Apple, Lyft does allow you to bring your car seat to install and secure in your car. Of course, that's not always practical if you have to carry it around later or don't have a safe place to store it in between drop-offs, but it is always an option. (Uber also offers a car seat service with the same price and requirements in New York City, too.)
So don't be nervous about asking a driver if you're stranded with an infant and really want to make a Dairy Queen run before your partner gets back from work with the car. Lyft is here to save the day.