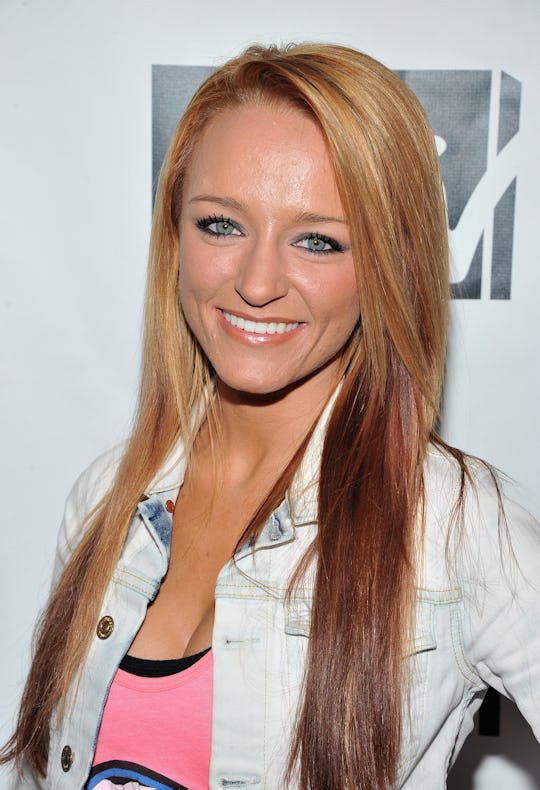 Theo Wargo/Getty Images Entertainment
Maci Bookout Is Pregnant With Her 3rd Child & Her Valentine's Day Post About It Is Adorable
Big news for any Teen Mom fans: Maci Bookout, one of the most beloved moms on the show, announced exciting news on Sunday. Maci told fans she's pregnant with her third child, and the Valentine's Day Instagram post couldn't have been more adorable. In the Instagram post, the 24-year-old mom of two was already proudly sporting a small pregnant belly. Her fiancé, Taylor McKinney, is the proud father-to-be, and according to Bookout, timing could not have been more perfect. She told MTV that she learned she was pregnant right after McKinney popped the question. Needless to say, it's been an exciting time for them.
"I found out I was pregnant with baby number three right after we got engaged," Bookout told MTV. "It was not expected or a planned pregnancy."
This next little McKinney is a baby boy who will no doubt be an entertaining and adorable little brother for Bentley, 7, and little Jayde, who is turning one in May of this year. Based on the hashtagging of Bookout's announcement photo (#lastbutnotleast), she is not planning to have any more children after this, but you never know! She captioned the photo, "#makingmoremoneys Baby boy coming soon! happy valentine's day! @tmon3yyy #lastbutnotleast." T-Money is McKinney's longstanding nickname, and now it's been passed on to his children.
There were some holes in Bookout's story, though. Bookout and McKinney announced their engagement three weeks ago, on Jan. 19. But if Bookout was due on May 30, that means she's about five and a half months pregnant. So, either she knew she was pregnant before they got engaged (which is not what she told MTV) or they got engaged months before they publicly announced the engagement (seems likely). Who knows! These two are always good for some intrigue and drama, and no doubt there will be even more in the coming months as they prepare not only for a wedding, but a new baby.
If that isn't stressful enough, her youngest two may be less than one year apart. Bookout is due on May 30, which is just one day after Jayde's first birthday. There's a good chance she'll go into labor before that due date, and if she does she'll have two babies within a year of each other and her 7-year-old. She'll have her plate full.
All that impending chaos (happy chaos, but still chaos) may have prompted McKinney's ironic reaction to the news:
Good luck to you, T-Money! There are a lot of diapers in your future.