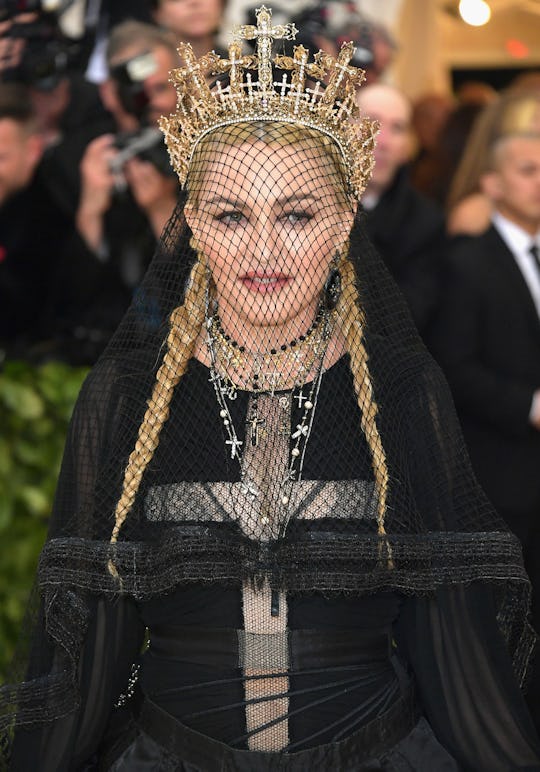 Neilson Barnard/Getty Images Entertainment/Getty Images
Madonna Looked Just "Like A Prayer" At The 2018 Met Gala
As celebrities arrived at the Met Gala on Monday evening, the nation's eyes were essentially glued to live coverage of the New York City bash — waiting to see who and what they were wearing on the red carpet. Another piece of the puzzle: Which celebs would be adhering to the Met Gala theme? This year's theme — for which attendees are encouraged to follow, but aren't required — is "Heavenly Bodies: Fashion and the Catholic Imagination". Among the famous faces making their way toward the Metropolitan Museum of Art, was pop icon Madonna. And here's why Madonna's 2018 Met Gala look completely owned the Met Gala theme.
Honestly, Madonna's outfit was like a walking "Like a Prayer" meets "Like a Virgin" music video — and it was both perfect and spot on for tonight's religious-themed event. As Vogue reported, Madonna walked the red carpet wearing an all-black ensemble. Her look included a full skirt with a cross top, black rose, heavy veiling, and topped off with an ornate crown. It was full-on Gothic perfection.
Leading up to the big reveal of her Met Gala fashion choice, expectations were high for Madonna. Fans could not wait to see what she had up her sleeves this time around.
Judging by the Twitter reactions following her red carpet walk Monday night, Madonna definitely delivered. And then some.
But is anyone really surprised? Madonna always delivers. In 2017, she slayed in a camo dress, ET Online reported.
And in 2016, Madonna made a statement with her striking Met Gala look — which included showing off her glutes, Billboard reported.
The singer took to Instagram the following day to explain her GI-Joe-Barbie-esque outfit choice was actually a political statement. "My dress at the Met Ball was a political statement as well as a fashion statement," she wrote, Us Weekly reported. "The fact that people actually believe a woman is not allowed to express her sexuality and be adventurous past a certain age is proof that we still live in an ageist and sexist society." Madonna continued:
I have never thought in a limited way and I'm not going to start. We cannot effect change unless we are willing to take risks By being fearless and By taking the road leas traveled by. Thats how we change history. If you have a problem with the way I dress it is simply a reflection of your prejudice. I'm not afraid to pave the way for all the girls behind me‼️
As you can see, Modonna doesn't exactly have a history of playing it safe for the Met Gala. Or anything, for that matter. (And that's what we love about her!)
On Sunday, Madonna posted a time lapse video of what looks like preparations for the Met Gala. (Holy crap. Does it really take that long to get ready for this shebang?) "Even Queens need to eat. ............" she captioned the clip, along with a crown, praying hands, and an angel emoji.
Page Six reported that Madonna has had a, err, complicated relationship with Catholic fashion through the years. Her "Like a Virgin" music video back in 1989, for example, caused quite the stir with the Catholic Church thanks to the Madonna kissing a saint, among other controversial imagery. More recently in 2006, she was mock-crucified during a tour stop in Rome. And as Refinery29 reported, during her 2015-16 world tour, she sported sexy nun's habits and danced on crucifix-shaped stripper poles for her song, "Holy Water." So yeah. Madonna has basically been preparing for this night her entire career.