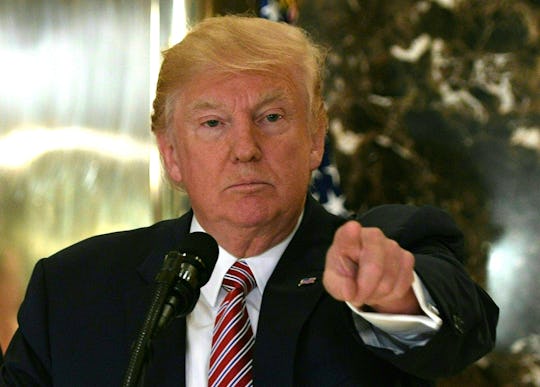 JIM WATSON/AFP/Getty Images
These Magazine Covers Are Calling Out Trump's Refusal To Condemn Hate Groups
When President Donald Trump failed multiple times to disavow hate groups like the KKK and Neo-Nazis this week, it sent a strong message. But a well-crafted image can send an even stronger one, as exemplified by two chilling magazine covers on Trump's inability to condemn racism, unveiled on Thursday. TIME's Aug. 28 issue, "Hate in America," depicts an anonymous figure performing a Nazi salute while cloaked in an American flag. Articles include "Will the Nation Succeed After Charlottesville Where Donald Trump Failed?," "Bigots Get a Boost from the Bully Pulpit After Charlottesville," and "American Hate, a History."
The Economist got personal with its Aug. 19 cover, on which a cartoon Trump bellows into a megaphone stylized as a Ku Klux Klan hood. The headline of the lead story doesn't mince words, either: "Donald Trump has no grasp of what it means to be president." After a week's worth of waffling and equivocation by the president, it's a relief to finally see such an unambiguous statement. It's also scary as hell, of course, because regardless of competency, Trump is still steering the ship, and contrary to the Republican Party's hopes, no retired Army general or perfectly poised Jewish daughter seems able to right it.
The New Yorker also previewed the cover for its upcoming issue.
The words behind those covers are certainly worth reading as well: TIME's Nancy Gibbs juxtaposed the words of President Barack Obama on the night of his election with the current U.S. political climate as a "serial reckoning with the dreams of our founders, and our record in living up to them." The torch-wielders in Charlottesville came to "take our country back," she wrote, supported by Trump's ethos: "The world is not a community; it's a business. If you're not winning, you're losing. And anyone who invests in a common good or a shared sacrifice is a sucker." There were warnings all along that Trump's rhetoric was emboldening bigots. The Southern Poverty Law Center's statistics have proven them right, as have cheers of praise from Neo-Nazis and Klansman alike.
The Economist argued that Trump himself is "not a white supremacist," and instead merely "politically inept, morally barren and temperamentally unfit for office." Blaming the made-up "alt-left" for the violence in Charlottesville "reveals his shallowness." He has no interest in fulfilling his duty to unite the nation, only "honoring himself and taking credit for his supposed achievements." Indeed, Trump's comments on Charlottesville gave the impression of an attempt to have his cake and eat it, too. His unending quest for approval has left him unable to condemn even the most morally bankrupt of his base, lest he lose their support. For Trump, the presidency was never about the betterment of his country; it was just the latest step in his perpetual one-man popularity contest, and he intends to win at all costs.