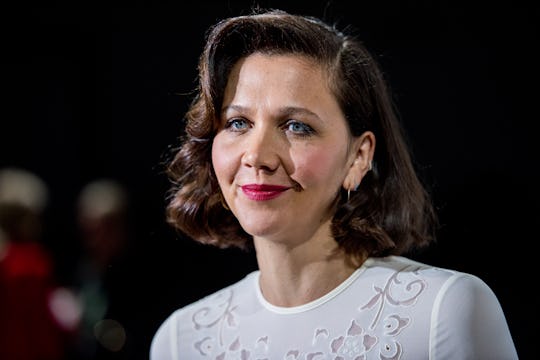 Roy Rochlin/Getty Images Entertainment/Getty Images
Maggie Gyllenhaal Says Spending Time Alone Is "So Precious" & Every Mom Can Relate
Everyone loves their kids, deep down. But you don't always have to like them, especially when they're running you ragged and you have a million other things to do. Which is precisely why Maggie Gyllenhaal's mom confession about her most secret desire is so relatable. Sometimes you have to get away from it all.
Gyllenhaal, 40 years old, has two daughters, 11-year-old Ramona and 6-year-old Gloria, with her husband Peter Sarsgaard. While attending the Vulture Festival in New York City this weekend, she told Us Weekly about her favorite things to do in the city. None of them involve her family, which makes total sense. The Deuce actor said, "I like to be alone. I like to eat something nice. Get some exercise. Shop a little. I just like to hang out by myself. I'd like to have no where to be. This is total fantasyland. This never happens."
That actually sounds like the perfect New York City day. The actor added that she knows her feelings might change over time. "I think there will be another part of my life where I don't want to be alone at all. I [will] just want to have my girls at home, you know, when they're away at school or married or whatever," she added in the same Us Weekly interview. Gyllenhaal went on, "But at the moment, it's so precious to have just a second by myself."
Gyllenhaal doesn't often speak about her personal life, though she recently gave an interview with W magazine about her involvement with fashion designer Apiece Apart and her recent activism. There, she expressed the same desire for some alone time. The outlet asked her what her evening routine is and she answered:
We usually cook and have dinner together--give the kids a bath, help with homework, get them to bed. Then I'll hang out with my husband for a while.
When they followed up and asked her what she likes to cook when she's alone, Gyllenhaal quipped, "I'm never alone at dinner time," which is basically the life of every mom. But if she was? She'd order sushi. But getting to spend time with her kids is a good thing in Gyllenhaal's mind. She told the outlet that she and her kids have been talking a lot about politics. When asked how she explains President Donald Trump to her kids, she said:
To my five-year-old, we talk about Trump as a bully, who doesn't know much about being president and who isn't curious. And we talk about how people (even children) have a lot of power when they join together, even against someone who seems terrifying. To my ten-year-old, I'm pretty candid. We talk about bigotry and sexism.
The mom of two girls went on the same interview with W magazine, "We talk about what you do when people make laws you think are unjust and elect leaders you think are corrupt. Do you follow them anyway? Or does it give you an opportunity to grow your mind?"
All of that quality time seems to be paying off. Gyllenhaal's brother Jake told Page Six that his nieces awe him, saying:
When I'm with [my nieces] all I can think about is what incredible work my sister has put in and what a good mother she is with all the things she has on her plate already. With her extraordinary talent and everything she does there, it says a lot about her and it says a lot about her husband.
He added, "[They are] fully devoted to their family. They give me a chance to be a fun uncle because their daughters are so cool."
It would be hard to not be cool with Maggie Gyllenhaal as your mom, even if sometime she just wants you to leave her alone.