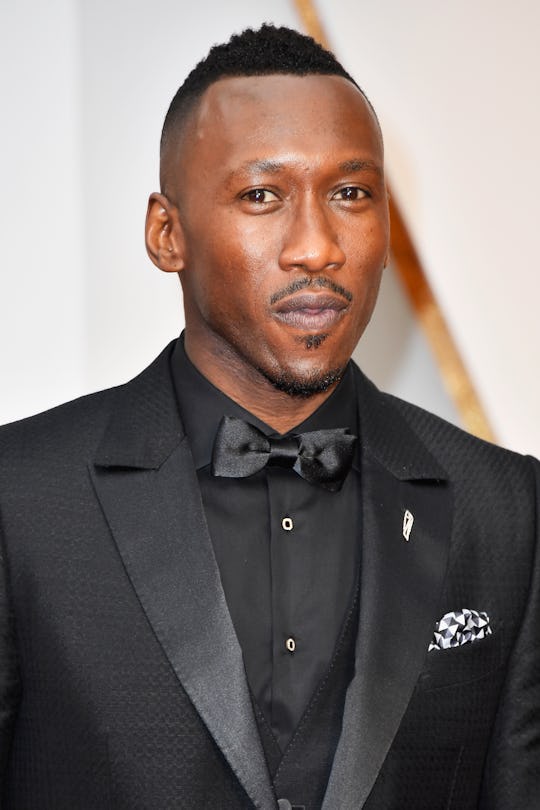 Frazer Harrison/Getty Images Entertainment/Getty Images
Mahershala Ali Talks Fatherhood At The Oscars
Sunday's Academy Awards are a big deal for all the big names in Hollywood, but Mahershala Ali's quote about becoming a father on the Oscar's red carpet shows that the most important things in life aren't golden statues or accolades, but the people you have in your life. Talking with ABC's Robin Roberts about the fact that he and his wife, Amatus Sami-Karim, welcomed their first child on Friday, Ali was asked how he was feeling about his first Oscar nomination. Ali beamed, "My baby girl came this week, so I won."
Talk about keeping things in perspective. He even had things in perspective when it came to his first Oscar nomination for Best Supporting Actor in Moonlight. He told Roberts that he and the crew behind the film "knew that it was risk," but that it was important to make sure that coming of age stories like the one depicted in Moonlight are told to a wider audience.
"Look, it was somebody's truth and it becomes your responsibility as artists to step into the shoes of other people and help shine a light on other people's journey and other people's stories," he said. Ali was also part of Hidden Figures, another film up for a few Oscars Sunday night. He said that being a new dad made him think differently about that film, too.
"That story is one that also needed to be told. Having a daughter now, there's a heightened sense of awareness" that there's a need for those kinds of stories, he said. Of course, Hidden Figures told the story of the unknown, underrepresented women of color that worked for NASA. Ali was certainly on the red carpet representing some of the best in film this year.
It has to be hard to focus on all the glitz and glam of the awards knowing that there's a sweet little newborn waiting for you at home. Ali told E! News on the red carpet, "Yea, I'm a special kind of tired right now," which is something that any new parent can relate to.
He's got a lot going on. Although he told Oscars host Jimmy Kimmel last month that he and his wife hadn't decided on a name just yet, Ali welcomed his "baby girl" on Instagram over the weekend with a shot of his wife holding the little one. In the caption, he shared his daughter's gorgeous name: "Bari (Bar-ee) Najma Ali," he wrote.
She'll definitely be proud of her dad. And as he said, even if his films don't win this year, he and his new family are already champs.