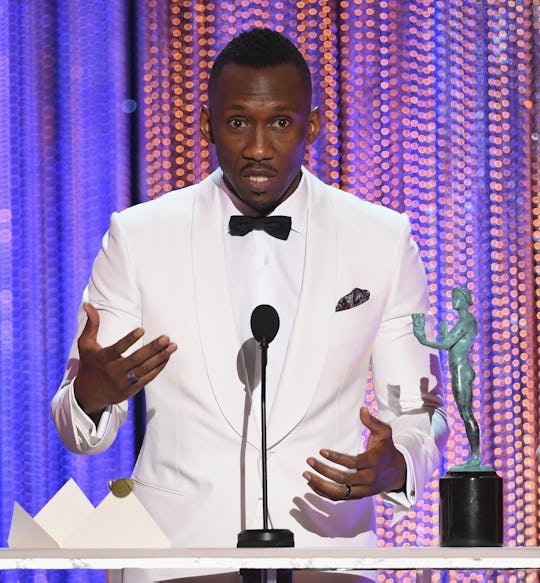 Kevin Winter/Getty Images Entertainment/Getty Images
Mahershala Ali's SAG Awards Speech Was Incredible
The 2017 SAG Award for Outstanding Performance by a Male Actor in a Supporting Role went to Mahershala Ali for his role in Barry Jenkins' Moonlight. It was a night of powerful speeches by actors, thanks to this weekend's nationwide protests against President Trump's executive order banning immigrants from seven Middle Eastern countries. But Mahershala Ali's SAG Awards speech touched on his own Muslim faith, as well as on the importance of the film's themes of queerness and blackness in America.
In Moonlight, Ali plays Juan, a father figure of sorts to the film's young queer protagonist Chiron. In spite of the fact that Chiron grows up in a low-income, queer-antagonistic black community in Miami, Juan and his girlfriend Teresa make space for him to be himself, before he even figures out what that really means. Juan's home becomes a sanctuary for Chiron, especially as his mother struggles with crack addiction, and Ali's portrayal of a hyper-masculine, but tender and open-minded drug dealer is one of the film's victories.
Ali's speech was particular refreshing, given its rejection of the common "we are all one" rhetoric, which doesn't always address or make space for the specific needs of different marginalized populations.
Ali said:
"I think what I've learned from working on Moonlight is we see what happens when you persecute people. They fold into themselves and what I was so grateful about in having the opportunity to play Juan was playing a gentleman who saw a young man folding into himself as a result of the persecution of his community. Taking the opportunity to uplift him and to tell him he mattered, he was okay and accept him. I hope that we do a better job of that.
We kind of get caught up in the minutia and the details that make us all different, I think there's two ways of seeing that. There's an opportunity to see the texture of that person, the characteristics that make them unique, and then there's the opportunity to go to war about it. And to say that that person is different than me and I don't like you so let's battle.
My mother is an ordained minister. I'm a Muslim. She didn't do backflips when I called her to tell her I converted 17 years ago. But I tell you now, you put things to the side and I'm able to see her and she's able to see me. We love each other. The love has grown. And that stuff is minutia. It's not that important."
He went on to thank director Barry Jenkins and Tarell Alvin McCraney, who wrote the story that inspired Moonlight. Ali also took home a 2017 SAG Award for his work in Hidden Fences, which won Best Film Ensemble.