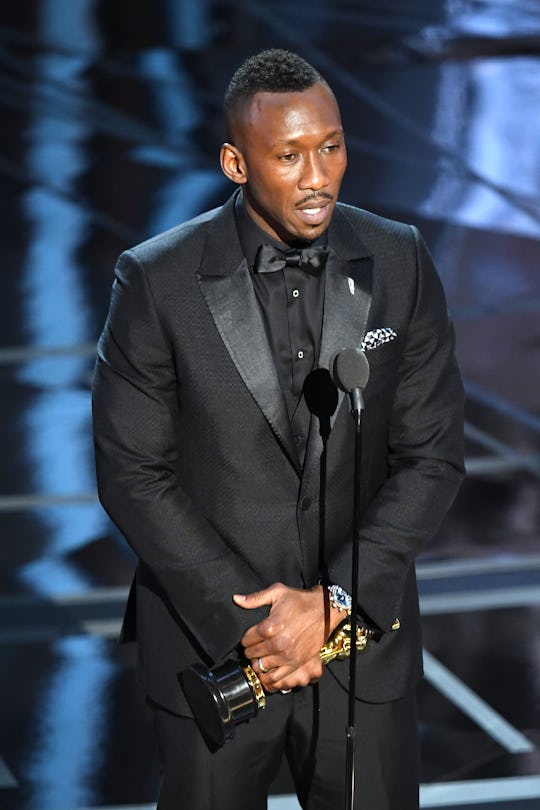 Kevin Winter/Getty Images Entertainment/Getty Images
Mahershala Ali's Tribute To His Wife Was Wonderful
The 2017 Academy Awards made up for its late start by giving out a huge award to kick off the festivities. They opened with the Best Supporting Actor award, which Mahershala Ali took home for his work on Moonlight. But Mahershala Ali's tribute to his wife during his Oscars acceptance speech was its highlight.
This is his first Oscar nom and win, although he's been cleaning up on the awards show circuit. In addition to working on Moonlight, he also had a small role in another critical darling this season, Hidden Figures. (Incidentally, Janelle Monáe also appeared in both films.) At the SAG Awards last month, he picked up one award for his work on each project, with an Outstanding Supporting Actor win for Moonlight and an Outstanding Cast in a Motion Picture win for Hidden Figures. He also earned a Golden Globe nom for Moonlight.
In a mostly reserved speech that opened with him quickly buttoning up his suit jacket, shouting out his grandma who would have expected no less, Ali kept his remarks short, genuine, and grateful. Even though Moonlight tackles hugely important subject matter at the intersections of blackness, queerness, and class in America, he decided to let the film speak for the film's issues, while he talked about the people who helped him succeed. Ali's speech focused the people who helped him get where he is and the work of the team on Moonlight, including director Barry Jenkins. He thanked his acting teachers and spoke of the importance of telling a character's story instead of "making it about you" as an actor. And finally, he thanked his wife.
Said Ali:
"Lastly, I just want to thank my wife who was in her third trimester during awards season. We just had a daughter four days ago. I just want to thank her for being just such a soldier through this process, and helping, and really carrying me through it all. So thank you. I really appreciate it. Peace and blessings."
Obviously, Ali's wife Amatus Sami-Karim wasn't present at the Oscars. She was home with baby Bari Najma, cheering dad on as he accepted the award. In a red carpet interview with Entertainment Tonight, he revealed that watching her give birth epidural-free gave him a new appreciation for women's toughness. He also clarified that his awe doesn't hinge on drug-free childbirth either, because he is bae.
"Hands down, women are the toughest beings on the planet," he told ET. "I'm not saying that to be cool. I don't care if you have children, choose to have children. I don't care if you took every pain medication in the world to have children... I'm telling you, women are the toughest beings on the planet."
Hopefully, he enjoys his two new 8-pound joys.