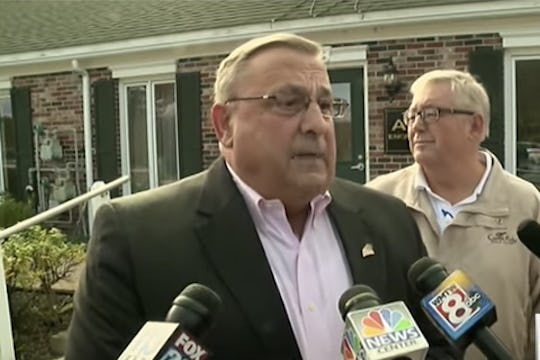 YouTube
Maine Governor's Guillotine Comments Are Totally Uncalled For & It's Not The First Time He's Made An Inappropriate Statement
While everyone is entitled to their opinions, some people's opinions are just insane enough to make you wonder about the freedom of speech. On Tuesday, Maine Gov. Paul LePage's guillotine comments made headlines after the politician publicly backed use of the grisly execution device on drug dealers during an interview with WVOM, a local radio station. LePage even said that he might want to spice it up a little by letting citizens attend the public execution so that they could guess where the head would fall. (This man is actually an elected official, people of America.)
According to CNN, LePage was being completely serious with his comments, returning to the topic even as the radio hosts tried to wrap up the interview. "I like French history," he said in defense of his policy. The Republican governor is also reportedly open to the idea of the death penalty for drug dealers who "kill Mainers," according to the news outlet, and he had a detailed plan to "give them an injection of the stuff they sell."
On Tuesday the governor's office claimed that LePage had been joking, of course. But if you listen to the audio, he sounds very serious, if not almost passionate, about public executions.
Before you start worrying that the governor could actually push his policy through the legislature, however, you should probably take a moment to calm down. Maine has a long record of rejecting the death penalty since 1887 after a gruesome botched hanging left the public in uproar.
This isn't the first time the governor has raised eyebrows when speaking about the drug epidemic in Maine. Just a a few weeks ago LePage expressed outrage over drug dealers coming into his state from New York or Connecticut to sell drugs and impregnate women. His remarks, unsurprisingly, had racial overtones. According to NPR, the governor reportedly stated during a townhall,
These are guys with the name D-Money, Smoothie, Shifty. They come up here, they sell their heroin, they go back home. Incidentally, half the time they impregnate a young, white girl before they leave, which is a real sad thing because then we have another issue we have to deal with down the road."
Just rest easy knowing that in early January, the legislature tried to impeach the Tea Party governor (their attempt was unsuccessful, but fingers crossed!).
Of course, the governor is entitled to the freedom to say whatever he wants. Seemingly, the people of Maine don't exactly agree with him. While LePage has endorsed New Jersey Governor Chris Christie in the 2016 presidential race, Maine voters seem to favor Carly Fiorina and Donald Trump in the debates so far.
If nothing else, it's a very good indicator of the diverse country we live in that elected officials think it's completely apropos to suggest public executions as punishment or joke that people of color are all drug dealers. Yes, "diverse." Or maybe just crazy.
Images: YouTube screengrab