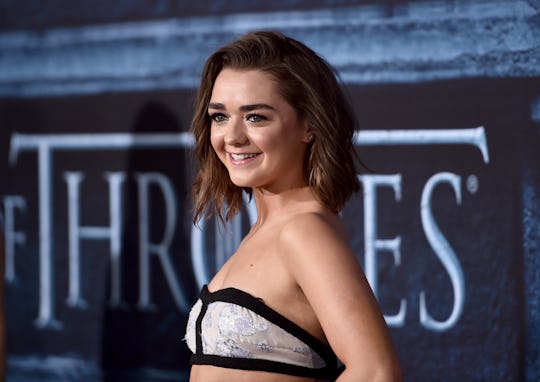 Alberto E. Rodriguez/Getty Images Entertainment/Getty Images
Maisie Williams Re-Writes Sexist Headline, Makes Us All Proud
It's one awesome thing for female celebrities to use their privilege to talk in public about gender equality, sexism in Hollywood, and all the other BS that women have to put up with in this crazy world. But Maisie Williams re-wrote a sexist headline on Monday that should make women everywhere super proud. It gets right to the heart of how our culture objectifies women, in Hollywood and beyond, without giving a nod to their actual accomplishments or character traits.
Here's the gist: After sporting an elegant, lace dress to a charity event in Bath, England on Sunday for the National Society for the Prevention of Cruelty to Children, some poor editor (probably under orders to run sensational headlines to drive traffic, we feel you) over at The Daily Mail decided to run Williams' picture with the headline, "Unveiled: Game of Thrones' Maisie Williams goes braless in sheer lace dress and quirky headpiece at charity masquerade."
Now, we're talking about a British tabloid here, not exactly known for being a paragon of thoughtful journalism. But Williams wasn't about to let them slide. She retweeted the headline with her editorial notes instead. "Alternative: Game of Thrones actor, Maisie Williams, helps raise thousands at a Summer Masquerade Ball," she tweeted. Her response to the picture perfectly highlighted everything wrong with how we talk about women in the media.
Here's the thing: her dress was lace, but not revealing at all. There was nothing "sheer" or "unveiled" about it (in fact, she was wearing a veil of sorts for the masquerade BTW). That shouldn't matter, of course, but sex does still sell and the world isn't perfect. If she had showed up topless to a charity event for children, I can empathize with the editor who sees a story in that.
The problem is that, even though she was wearing an actually-pretty-conservative dress of which even Violet Crawley would approve, that tabloid chose to hone in on the one aspect of the dress that would make for the most scandalous-sounding headline — completely disregarding what the event was all about.
Between the outlet ignoring what she was doing at the gala and focusing on her bra, Williams was right to call foul. It was the perfect example to highlight what the media (and what even the best feminists might do in their own living rooms watching red carpet events sometimes) does when it comes to focusing on, and therefore objectifying, the female body. It's all over the place.
Look, Leonardo DiCaprio held a charity gala last summer and the focus was on the cause and his heroic fundraising efforts and not his ridiculous man bun or even, let's be real here, folks, the fact that he is not in the best of shape as of recently. We love the "dad bod" even on non-dads. An actress like Renee Zellweger gains a little weight to play a pregnant woman in a movie and she's basically a pig.
The instinct to comment on a female actress' "braless look" or how her body looks in a dress she feels great in is so, well, instinctual. It's so insidious that even #AskHerMore, the red carpet hashtag campaign that basically begs the media to talk to a female celebrity about something, anything, anything at all, besides what she's wearing, has been turned into a joke.
But it's not funny. I hate to say it, but I am glad that Williams didn't have a plunging neckline for this sexist headline. Because that would give the trolls — male and female, by the way — a chance to suggest that she was "asking for it" or "peacocking." When people suggest that just because a woman (or girl for that matter) is dressed too "provocatively," it says more about the eye of the beholder than the woman in question. It's a tough line to navigate — because just saying that a woman "feels good," or "likes how she looks" in an outfit often gets twisted even further into her somehow playing into the male gaze.
Here's a little secret, guys. Women aren't here for you. I know that may be hard to take, after all these years and socialization, but it's time we start to acknowledge, like Williams did, that our bodies aren't here to be ogled. That 19-year-old Maisie Williams felt that rage on Twitter this week is a good sign that people might be starting to take the hint.
Maybe one day women will be able to walk the red carpet, or even to the grocery store, without wondering if her comfy yoga pants are "too revealing." Get in formation, ladies, and don't cover up unless you're cold.