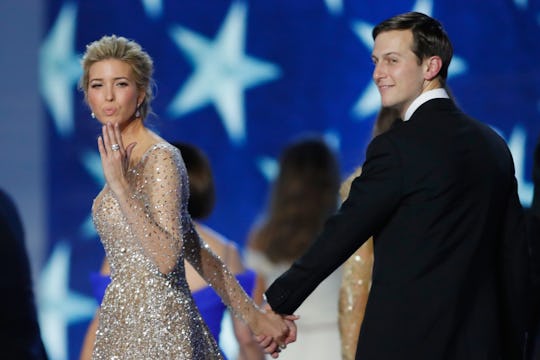 Aaron P. Bernstein/Getty Images News/Getty Images
Here's What Americans Think Of Ivanka Trump's White House Job
According to a new poll released by Quinnipiac University on Wednesday, the majority of Americans think Ivanka Trump's White House role is inappropriate, with 53 percent of respondents saying it's not appropriate for either her or her husband to play a significant role in the administration. Currently, Ivanka works as an unpaid adviser to her father, President Trump, and has top-secret security clearance and a West Wing office. Ivanka's husband, Jared Kushner, works as an unpaid senior adviser.
Over the course of a week, Quinnipiac surveyed just over 1,000 voters across the country. According to CNN, a smaller amount of Americans (36 percent) said they thought Ivanka's White House role was appropriate, while about 32 percent said the same for Kushner. Romper reached out to the White House for comment, but did not immediately hear back.
The higher disapproval rates aren't exactly surprising, considering the recent questions raised by the public around anti-nepotism laws and the Trump family's conflicts of interest. When Kushner was appointed to his White House role, the Justice Department issued a memo explaining that the laws did not apply to the White House, according to The New York Times. One nepotism law passed in 1967 states that no public official (including the president) is allowed to hire or promote an employee, but the penalty for violating that law is that the employee loses his or her entitlement to pay. By remaining unpaid employees, CNN pointed out, it seems that Kushner and Ivanka were in the clear.
That hasn't helped the couple escape criticism for potential conflicts of interest, however. According to The New York Times, Kushner is still a beneficiary of many Kushner Companies assets, despite resigning from multiple roles at the company, and many Kushner Companies' projects still draw investors from around the world. Similarly, Ivanka placed her assets in a trust when she took on her White House role, but she still remains the owner of the Ivanka Trump brand, which has applied for trademarks in countries globally.
Ivanka and Kushner's government ethics adviser, Jamie Gorelick, told The New York Times in early April that the couples' potential conflicts were "pretty narrow and very manageable." However, government watchdog groups and the media have kept a close eye on the couples' political involvement, who they're meeting, and what policies they work on.
Regardless of the public's opinion of the appropriateness of Kushner and Ivanka's White House roles, both scored higher favorability ratings than the president himself: About 56 percent of respondents had an unfavorable view of Trump, while Kushner and Ivanka's unfavorability ratings both came in at just over 30 percent.