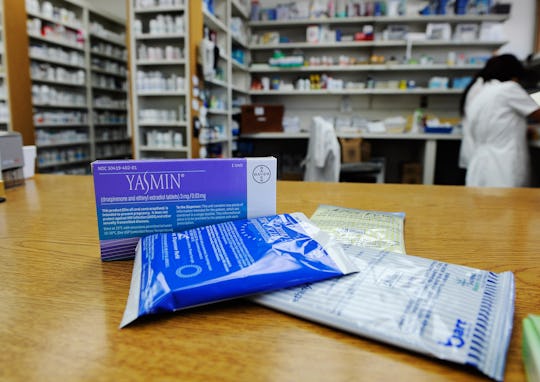 Kevork Djansezian/Getty Images News/Getty Images
52 Percent Of Men Think This About Birth Control
Members of the House Freedom Caucus — a group of conservative lawmakers comprised entirely of men — will soon decide the fate of women's access to birth control and it doesn't look very promising. Why? Other than the fact that women aren't equally represented in discussions where voicing their gender's concerns would otherwise seem crucial, it turns out that, in general, a majority of men say birth control doesn't benefit them and many of them greatly underestimate how many American women use it, too, according to a new survey.
According to the survey of registered voters from the nonpartisan firm PerryUndem, 52 percent of men say that they have not personally benefited from a woman having affordable access to birth control, while slightly more than one-third of men (37 percent) say that they have. But here is where it gets interesting: the highest percentage of men (70 percent) who said that access to birth control doesn't concern them were 60 years and older — presumably around the same age bracket for many of the suited men who sat down with President Donald Trump and Vice President Mike Pence on Thursday to discuss the GOP's health care replacement bill.
Meanwhile, the 45 percent of men who were most likely to say that birth control benefits them were between 18 and 44 years old. As New York Magazine put it, "Men were more likely to see a personal benefit to birth control the nearer they got to a woman's reproductive age."
The survey's findings weren't all bad and the majority of men do seem to understand how important affordable access to birth control is, even if they don't believe that they personally benefit from it. For instance, more than half of male respondents (56 percent) want to keep the Affordable Care Act birth control mandate in place, which requires insurance companies to cover it without a co-pay. But, support for birth control coverage jumped to 64 percent after they heard of the out-of-pocket costs that would increase.
Women chimed in, too: if Obamacare's birth control benefit is repealed, 14 percent of women said they couldn't pay anything for contraception if they needed it right now and 33 percent said they could only afford to pay $10 or less.
A huge number of respondents seemed to be on the same page when they were asked if the biological tables were turned and men had to give birth, would this be a debate in the first place? A majority of those surveyed (75 percent) answered "no."
Among many other things concerning women's health care on the chopping block, if women lose access to affordable birth control, the men who say they don't benefit from it will see very quickly that they do, if not directly. Women choose to use birth control for many reasons, whether that's to take control of their sex lives, futures, and finances or for health reasons.
So let's say, for instance, that one of the 60-year-old men who doesn't think birth control affects him has a daughter and she uses it to regulate her periods or reduce her cramping. He benefits, because his child is healthy. Let's say, the same guy's daughter, is a new mom and decides to use it after she gives birth so she can plan and be prepared for her next pregnancy, if she wants. He benefits again. Birth control gives women the ability to care for themselves and however you slice it, that affects men's lives, too.