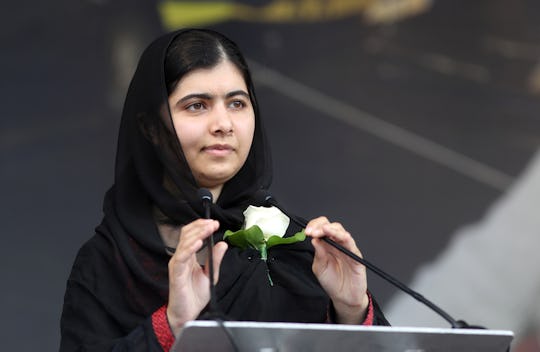 Dan Kitwood/Getty Images News/Getty Images
Malala Yousafzai Speaks Out Against Refugee Ban
Ever since President Trump signed an executive order temporarily banning refugees from the United States on Friday, the international outcry has been deafening. But of all of the responses, children's rights advocate and Nobel Prize laureate Malala Yousafzai's response to Trump's refugee ban perfectly captured who is affected by the new ruling. As Yousafzai put it, "refugee children, who have suffered through six years of war by no fault of their own," are being "singled-out for discrimination."
When Trump explained his order — which banned approximately 218 million people from the United States, including citizens from seven Muslim-majority countries and all refugees, according to CNN — he focused on the safety reasons behind his measures. "I'm establishing new vetting measures to keep radical Islamic terrorists out of the United States of America," he said on Friday. "We don't want 'em here. We want to make sure that we are not admitting into our country the very threats our soldiers are fighting overseas. We only want to admit those into our country who will support our country and love deeply our people."
Yousafzai, however, released a statement on Friday that refuted Trump's claim that his order was keeping "radical Islamic terrorists" out of the country.
"I am heartbroken that today President Trump is closing the door on children, mothers and fathers fleeing violence and war," Yousafzai said in response. "I am heartbroken that America is turning its back on a proud history of welcoming refugees and immigrants — the people who helped build your country, ready to work hard in exchange for a fair chance at a new life."
She then shared the story of her friend Zaynab, a refugee who was welcomed into the United States. "I am heartbroken for girls like my friend Zaynab, who fled wars in three countries — Somalia, Yemen and Egypt — before she was even 17," Yousafzai said, continuing:
Two years ago she received a visa to come to the United States. She learned English, graduated high school and is now in college studying to be a human rights lawyer. Zaynab was separated from her little sister when she fled unrest in Egypt. Today her hope of being reunited with her precious sister dims.
In this time of uncertainty and unrest around the world, I ask President Trump not to turn his back on the world's most defenseless children and families.
Trump has banned all citizens from Iran, Iraq, Libya, Somalia, Sudan, Yemen, and Syria for the next 90 days, leaving groups of travelers in limbo at airports in the United States. All refugees have been banned for 120 days, and Syrian refugees are set to be banned indefinitely. Several Muslim-majority countries where the Trump Organization conducts business were not included in the ban.
According to People, in the last 15 years there have also been zero fatal attacks carried out in the United States by immigrants from the countries Trump banned, making many Americans wonder how Trump's refugee ban will help reduce terrorism in the United States. As Yousafzai pointed out, however, the ban will have one very clear effect: it will turn away thousands of refugees whose stories echo Zaynab's, further hurting children and families seeking refuge from violence, and who have fled wars they had nothing to do with.