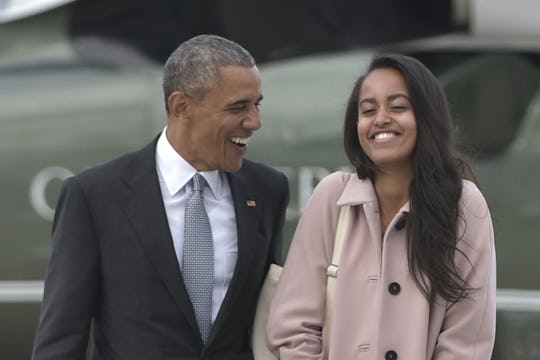 MANDEL NGAN/AFP/Getty Images
Malia Obama Will Take A Year Off Before Harvard & That's Perfectly Okay
Just hours after President Barack Obama jokingly let the world know during his comedic White House Correspondents' Dinner speech that he and his wife, Michelle, will not allow their older daughter to attend the Burning Man music festival this year, the White House announced that 17-year-old Malia will attend Harvard University. Instead of enrolling this fall, however, Malia has deferred her admission until 2017. These "gap years" have become increasingly common among recent high school graduates, allowing them to pursue out-of-classroom experiences before hunkering down with rigorous academic schedules. Couple that with the fact that the family is undoubtedly in a transitionary period as they prepare to leave the White House at the end of Obama's eight-year run as president January 20, and it's perfectly understandable that Malia Obama will take a year off before Harvard.
The country-wide Malia Obama college watch has been on since 2014, when many speculated that she'd attend Stanford after she was spotted wearing the university's T-shirt while bike riding. And she made headlines when a SnapChat photo of her standing near a beer pong table during a visit to Brown circulated last year.
Who can blame her for wanting to wait until she's no longer the First Daughter to start college?
Besides, Harvard certainly doesn't mind if its incoming freshmen pursue gap years, according to its website:
Harvard College encourages admitted students to defer enrollment for one year to travel, pursue a special project or activity, work, or spend time in another meaningful way—provided they do not enroll in a degree-granting program at another college.
The New York Times reported that students who take time off between high school and college make better choices about alcohol and sex during college, are more satisfied with their post-graduation choices, and are more successful academically.
Malia, who is a senior at the prestigious Sidwell Friends School in Washington, D.C., is likely to live up to her family name regardless of the gap year. While her (surely stellar) standardized test scores and GPA aren't public knowledge, she has interned on the CBS series Extant and HBO's Girls, The Washington Post reported. First lady Michelle Obama has described her as an "avid reader" and the president has talked about her dedication to earning high grades.
The Obamas will continue living in D.C. until their younger daughter, 14-year-old Sasha, completes high school. Sasha likely won't experience the same scrutiny her sister has, because another president will have taken office. But when her time comes, Malia will certainly have lots of sisterly advice about college — and probably fascinating anecdotes about how she chose to spend her gap year, as well.