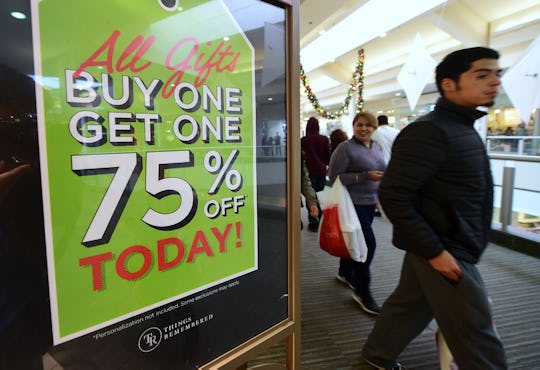 FREDERIC J. BROWN/AFP/Getty Images
Seemingly Unrelated Mall Chaos Erupted Nationwide
A day of snagging post-holiday deals and making gift returns morphed into seemingly isolated eruptions of mall chaos and brawls that broke out nationwide in at least 15 incidents across the country Monday. The series of disturbances resulted in arrests, minor injuries, some mass evacuations, and lockdowns, and confusion that caused false reports of shots fired at some of the unruly scenes. Most involved juveniles, and at least one appears to have been loosely coordinated via social media. Authorities are exploring the possibility of there having been links that twine together the Boxing Day fights that marred shopping experiences from Fayetteville, North Carolina, to Elizabeth, New Jersey, to Aurora, Colorado.
At Hamilton Place Mall in Tennessee, early reports of gunfire turned out to have been fireworks that teenagers set off in an attempt to divert attention from a shoplifting incident there, as NBC affiliate WRCB reported. Reports of shots fired also emerged during a fight at a mall in Elizabeth, New Jersey — but although an 8-year-old and a 12-year-old were injured, according to CNN, the gunfire some patrons believed they heard turned out to be the sound of a chair slamming. And police responding to an incident in Beachwood, Ohio, outside of Cleveland, believe the "large-scale disturbance" among "sizable groups of juveniles ... appears to have been loosely organized on social media," NBC News reported. Video from the scene shows crowds sprinting away from the melee, but reports of shots fired are also false.
According to Cleveland.com, police ended up using pepper spray to disperse the crowds, and one juvenile was arrested after allegedly assaulting an officer at the scene. More arrests were reported after separate incidents occurred at two Tennessee malls Monday, with officers arresting seven people total and taking an eighth into custody, according to USA Today. No one was injured, but one of the shopping centers closed early. Like many of the other incidents, the belief among some shoppers that there was a gun heightened the perceived danger. "Somebody yelled 'gun!' and youths stampeded through the mall," Memphis Police Department Deputy Chief Terry Landrum told the newspaper. " ... A kiosk was knocked over, there was some other damage, but there were no shots fired. We had officers in both malls."
Arrests made after an "incident involving several youths" at the Monroeville Mall outside of Pittsburgh were mostly for disorderly conduct, CBS Pittsburgh reported. The mall was not put under lockdown as a result, though, although the Dick's Sporting Goods store there did lower its security gate — and others opted to shelter in stores, as shopper Hannah Pulit described, according to CBS:
When we first walked in, there was a bunch of people there, like the canine dogs, all the police were there. And then we walked into Hollister, and we went to walk up to the front to look at more things, and then they were like, 'You can go out at your own risk.' … You had to walk around the entire mall [to get out].
Although the rash of fights that plagued shopping malls the day after Christmas punctured one of the busiest shopping days of the year, the fact that there weren't actually any shootings is a silver lining.