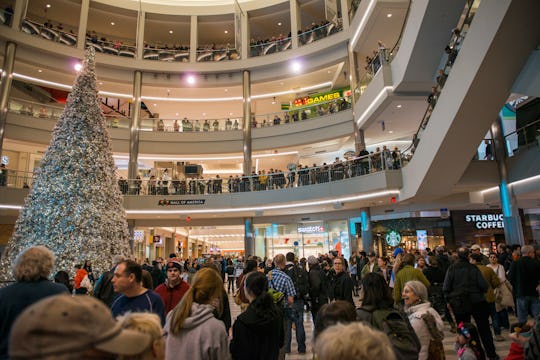 Stephen Maturen/Getty Images News/Getty Images
Mall Of America Will Be Closed On Thanksgiving & It's Good News For Retail Employees
October is well underway, which means that holiday season is fast approaching. Before you know it, Thanksgiving and Christmas will be upon us, which means the frenzy of holiday sales and shopping is about to begin. But for retail employees, this upcoming shopping season marks long hours and lots of exhausting work. Luckily for 15,000 retail workers and their families, Mall of America will be closed on Thanksgiving this year and hopefully it will inspire more shops to follow suit.
Black Friday — which falls on the day after Thanksgiving each year — is inarguably the biggest shopping day in the United States. Stores advertise special sales and big savings on the day that is supposed to unofficially mark the start of the Christmas shopping season. According to Time, shoppers spent over $10.4 billion in stores on Black Friday in 2015 and according to CNBC, more than 151 million consumers went to a mall to make a purchase that day.
But even though the sales are advertised for the Friday after Thanksgiving, many stores have begun to open on Thanksgiving night, in order to accommodate consumer demands. And according to Time, shoppers spent $1.8 billion in stores on Thanksgiving alone last year — long before competing stores opened their doors the following morning.
While this might be great for shoppers who want to beat the crowds, it isn't a good thing for retail workers who can't spend their Thanksgiving day and night with family and friends because they're scheduled to work. Luckily, Mall of America — the biggest mall in the United States — is doing something to change all of that.
According to The Minneapolis Star Tribune, Mall of America will "close down as many of its operations as possible" on Thanksgiving day. This means that the 15,000 employees and retail workers of the mall's 520 plus stores will have the opportunity to spend more time at home resting and eating Turkey (or Tofurky) during the holiday instead. The mall's theme park and movie theaters will be closed down, while stores will have the option to decide whether or not they want to stay open on Thanksgiving — although they're not required to. Instead, the mall will open at 5 a.m. on Black Friday — which will give shoppers plenty of time to get the first pick of the sales and retail employees enough time to sleep off the turkey.
Last year, according to Fortune, stores such as R.E.I, TJMaxx, and Nordstrom — among others — also stayed closed on Thanksgiving day. Hopefully, with Mall of America making this decision, other stores and malls will choose to follow suit. Thanksgiving is a day meant to be spent with friends and family, eating mountains of mashed potatoes and gravy — not cooped up in a shopping mall, dealing with loads of angry consumers, after all.