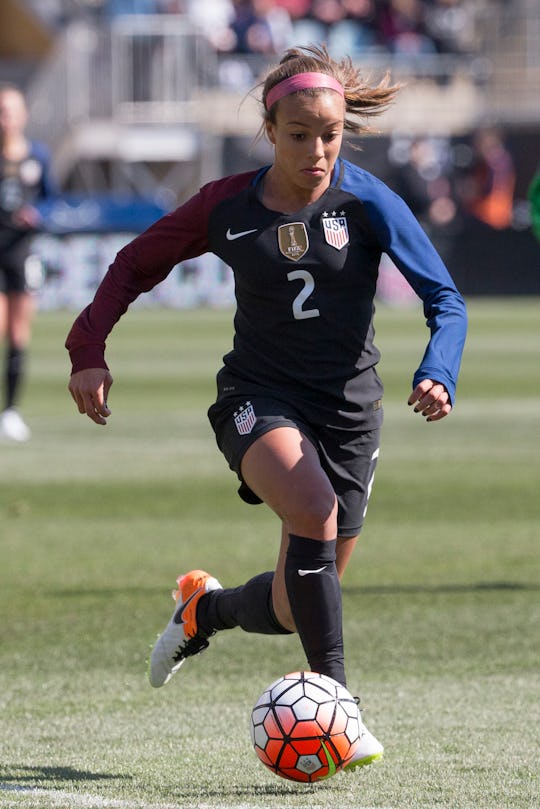 Mitchell Leff/Getty Images Sport/Getty Images
Mallory Pugh's Instagram & Twitter Look Just Like Yours — If You Had Twitter At 18
On Tuesday, Mallory Pugh became the second youngest woman to ever score a goal in the Olympics with the U.S. Women's Soccer team against Colombia. The 18-year-old shrugged it off like it was no big deal. "I just tried to shoot it as hard as I can, so it would actually go in," she told The Denver Post. That might sound like nonchalant bragging, but it's not. Actually, if you dig in, Mallory Pugh's Instagram and Twitter feeds look just like anyone else's. She's normal AF.
When she got the call to join the team in Rio, Pugh had pretty much just made her debut with the national team. She scored a goal with a header, after being called in as a sub, in a friendly game with Ireland in January. After that, she simply went back to high school (while training like a maniac, of course).
But — at least according to what everyone can see on the internet — she's the most relatable human being on earth, despite it all. After finding out she was going to Rio, she didn't ditch her high school soccer team, and even played a final season with them. She went to prom and classes. I grew up as the very not athletic sidekick BFF to some soccer and field hockey scholarship friends, and when I see Pugh, I just want to hang out with her and listen to Beyoncé.
On Twitter recently, she's been just enjoying Rio and the games:
But it's not all about her. She also tweeted about "the man, the myth, the legend," swimmer Michael Phelps, and recently retweeted a post about a singer she seems to enjoy listening to. "We all know that Kelly Clarkson is coming out with a new banger ... Just wait on it," it read. She also live tweets games, and enjoys adding her own commentary... like ranting about refs:
She also has a life way outside of soccer and being a record breaker. She and her friends talk on Twitter social media more than you might expect from someone so busy about to win a gold medal in the Olympics (don't jinx it!).
Her Instagram is all the same sort of stuff, but it doesn't go back very far. Along with some pictures of her kicking butt on the field, Pugh posted a #TBT of her and her friends from Colorado on their way to a homecoming dance. She captioned the pic, "Throwback to homecoming with my girls." The comment section has since been taken over by fans, but in the very beginning it was all just Mallory and her squad.
If you want to really get into Pugh's head, Twitter is the way to go. She retweets game clips that she's watching, her friends' funny jokes about their outings, and even Beyoncé clips.
Twitter is her medium of choice, so if you want to know about who the athlete really is at heart, that's the way to go. But be prepared for a lot of soccer, random personal musings, and a lot of birthday collages for every single one of her BFFs. Mallory Pugh is so many women — except that she's a record breaker and Olympian soccer player. It's probably in everyone's best interest to follow her now. She's probably going to stick around.