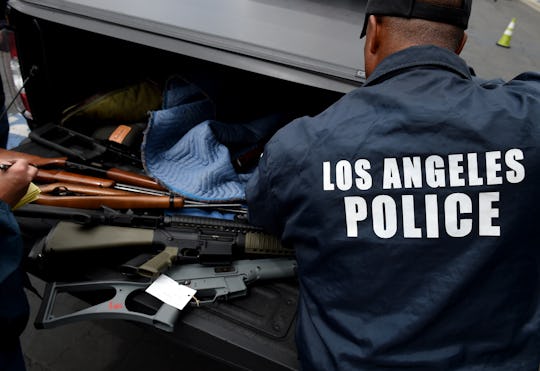 MARK RALSTON/AFP/Getty Images
Man Arrested Going To Pride Parade Had An Assault Rifle & Possible Explosives
Just hours after a tragic shooting at an LGBT nightclub in Orlando, Florida, which left at least 50 people dead and scores more injured, police reported that a Los Angeles, California man reportedly on his way to a pride parade was arrested with firearms and explosives. According to The Los Angeles Times, authorities in Santa Monica found the alleged explosives and assault rifles in car of a man who had said he was in the region for the upcoming Pride festival in West Hollywood. Police added that they had reportedly discovered suspected explosive powder and a camouflage outfit as well.
Update: The Los Angeles Times has identified the suspect as James Howell of Indiana; officials have noted that "a Facebook page for someone with the same name in Indiana shows a young man posing next to a white Acura similar to the one found in Santa Monica with the weapons and explosives." Authorities said he was seeking to "cause harm."
The FBI has updated the death toll to 49 victims. The shooter was also killed.
"They found him with weapons that were very disconcerting, [and authorities are] taking the appropriate safety precautions," a city official told the news outlet.
SMPD spokespersons reported that the car itself had Indiana plates; According to officials, there was no known connection between the two events in Los Angeles and Orlando, aside from the fact that they were both LGBT-related.
"Gun violence on the LGBTQ family during Pride Month makes me sick," West Hollywood City Councilwoman Lindsey Horvath said in a statement to the outlet on Sunday. "The deadliest mass shooting in America happened to LGBTQ people on Latin night [in Orlando]. While we mourn this heartbreaking loss, we must also rededicate ourselves to the fight for full equality for all people. No one is equal unless everyone is equal."
"All of our hearts today are with Orlando," Los Angeles Mayor Eric Garcetti said in a statement ahead of Sunday's Gay Pride event. "We are Pulse. We are Orlando. We are Americans. We are all LGBTQ community members today. We are all part of a country that will not be beaten down. We will not go away. And today, we are proud of who we are."
He then spoke directly to the Saturday night's arrest by Santa Monica police, stating,
Today we were also informed of … an individual here, we believe completely unrelated, who said he was coming to Pride and who was heavily armed, and apprehended by Santa Monica Police officials last night. We want to thank the Santa Monica Police Department and the neighborhood person who sent a tip that led to that arrest. But I want everybody here today to know we are safe. We are protected. Our law enforcement officials are here. I want to especially thank our federal officials from the FBI and others who are amongst us today and working hard to make sure in Los Angeles and in this area. I've been in touch with the sheriff, and I want to thank Mayor Meister and the entire leadership of West Hollywood.
For now, not much is known about the man aside from his name (James Howell) and scraps of information from a Facebook page, but authorities are working to release details as they roll in. For its part, the city of Los Angeles has refused to cancel it's annual Pride festivities.
"I feel like it's all the more reason to come out," one festival-goer told The L.A. Times. "That's trying to push us back. This is showing we're still here, we're still going to take a stand."