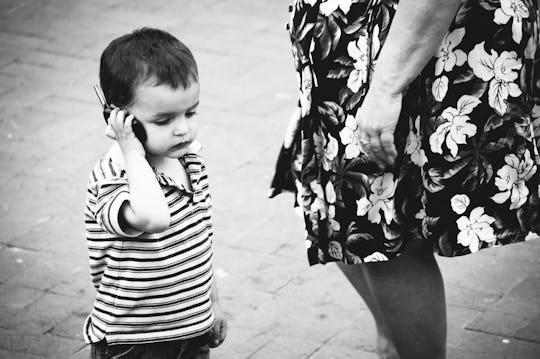 Derek Olson/Flickr
Many Kids Own Cell Phones Before They've Started Kindergarten, Study Finds — & Honestly, That's Not Totally Surprising
Believe it or not, toddlers are texting now. OK, not really; but they are getting super tech-savvy. The American Academy of Pediatrics recently surveyed 350 parents in Philadelphia and found that the majority of 4-year-olds have a personal mobile device and a TV reserved for their own use. (If you could just go back in time and explain that one to your four-year-old self, your mind would be blown.) Researchers also found that most 2-year-olds in the study used at least one device every day, and the majority of kids were already engaging with mobile devices before their first birthday.
Of course, the study wasn't huge or that diverse, so there's that to consider. According to the AAP, the survey was conducted "at a pediatric clinic in an urban, low-income, minority community." A November article in The New York Times also put the results in further perspective, clarifying that conclusions shouldn't be understood to automatically apply to the rest of the country. The piece also emphasized that all of the information was self-reported by parents. But let's be honest, even if the results aren't entirely representative of United States device use, they do illustrate some parents' increasing reliance on technology to keep kids entertained. (Or just like, to buy some time so you can get a load of laundry done.) The AAP found that parents plowing through chores or working through a bedtime routine often rely on technology to keep kids occupied. Playing Angry Birds or streaming Spongebob Squarepants definitely works against boredom, but how much screen time is too much?
Initially, the AAP imposed strict guidelines. In 2011 and 2013 reports, they suggested that children's and teens' screen time should max out at two hours daily, while kids under two shouldn't engage with digital media at all. But as recently as September, the AAP revised their position. Officially, the organization recognized the need for evolution in order to stay relevant, and at long last created a new set of guidelines for children's technology use during the AAP Growing Up Digital: Media Research Symposium. 
If you have tech-obsessed kids-in-training, here's a summary of AAP's advice:
Make Tech Use A Shared Experience
While prepping dinner or running errands, giving your kid an iPad can be a quick antidote to the drudgery of downtime. But as often as possible, the AAP recommends making device use a shared experience. Engagement – whether that means playing a game or discussing a theme - boosts language development and educational value of content. Challenge your elementary school child to a Pokémon battle or sing along to an episode of Sesame Street with your preschooler. One of the perks of being a millennial mom: many of your kids' favorite shows and games may be your childhood faves!
Curate, Regulate, And Enforce
Settling in on the sofa for Saturday morning cartoons is a rite of passage, but the AAP advises parents to set clear limits on media consumption. Make sure kids know what they're allowed to watch and download, even if that means implementing parental controls. The AAP also suggests establishing tech-free zones; keeping cell phones off of the family table at dinner and video games out of the bedroom gives kids quality time away from technology.
See Technology For What It Is: An Extension Of Real Life
The AAP explains that kids' digital lives are just as full as their physical ones; parenting stays the same in both realms. Focus on being a part of your kids' online existence, address any mistakes they make, and adopt personal technology use practices that you'd want your kids to model.
In other words, if your preschooler loves to play games on your iPad or watch endless amounts of Yo Gabba Gabba!, no worries. With a few carefully-crafted rules and plenty of parental involvement, early digital engagement can be deeply fulfilling for both of you.
Image: Derek Olson/Flickr; Giphy (4)