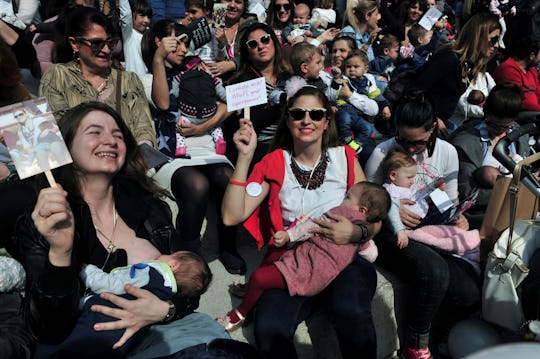 SAKIS MITROLIDIS/AFP/Getty Images
Breastfeeding Spots For Moms At The Women's March
This weekend is sure to be a historic one. From the inauguration of our 45th president, to the dozens of Women's Marches happening across the globe, these next few days will undoubtedly go down in the books as momentous, to say the least. And while events will be happening across the country, it is the Women's March on Washington on Saturday, Jan 21. that is expected to have record turnout. The event will begin at 10 a.m. Saturday morning, and will follow a route along the National Mall. As many are expected to turn out for the march, including mothers and children, resources have become available online to inform participants of places along the route to stop for bathrooms, food, water, or even phone charging stations. And for breastfeeding mothers, this map of breastfeeding and pumping locations accessible from the march is an important tool to help prepare for Saturday.
According to the latest numbers, the Women's March in D.C. is expected to have over 200,000 attendees, many coming from across the country to take a stand for what they believe in. While everyone has their own reasons for marching, a large number of mothers and parents will be attending, to raise their voices for their kids, who maybe can't quite do so on their own yet.
The Huffington Post this week shared the map of breastfeeding stations available around the city during the Women's March, but it's also important to note that D.C. has very stringent laws that allow women to publicly breastfeed, should an emergency arise and you can't get to a pre-designated area.
More specifically, it is the Breastfeeding Center for Greater Washington that has made certain that the appropriate resources are available to everyone at the march — and that's not all the organization has done.
The Center has also uploaded printable cards to its website, explaining D.C.'s breastfeeding laws, in case a nursing or pumping mother starts to get heckled for breastfeeding in public.
Hopefully, the Women's March won't turn violent, but, unfortunately, events with such large turnouts have oftentimes lead to some form of outbreak, whether large or small. Because of this, The Washingtonian has also made available a map of resources and locations that will be supporting the march on Saturday.
So whether you're in D.C. to celebrate, protest, or even just to observe, safety and accessibility is definitely a top-priority for everyone. With all the available resources, and the weather looking to be warmer than usual on Saturday, the Women's March on Washington is shaping up to be a beautiful, unifying event, for all.