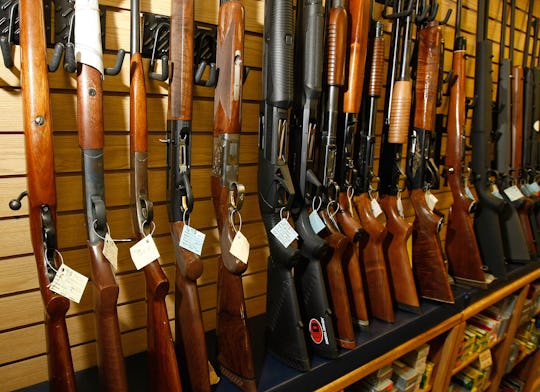 Ethan Miller/Getty Images News/Getty Images
Map Of Unintentional Child Shootings Shows Exactly Why Congress Needs To Act Fast
When it comes to gun laws and reform, the conversation tends to devolve quickly into a partisan fight. But this map of unintentional child shootings is evidence that the fight about what it means to have a "right to bear arms" needs to be resolved by Congress. And quickly. The map comes from Everytown for Gun Safety, an organization formed in 2014 to promote awareness and advocate for gun control reform. It shows that there have been 202 accidental shootings of a child in 2016 alone.
Using the hashtag #NotAnAccident, the organization tracks these deaths in an attempt to show people that these shootings could have been prevented. Everytown tweeted on Monday that "more than 80 percent of these shootings could have likely been prevented had the gun been stored responsibly." The organization, according to its website, believes that the number could even be higher since some injuries due to accidental shootings are underreported.
To create the map, members scour media reports to count all shootings in which a person under the age of 17 accidentally shoots and harms themselves or someone else. Everytown then follow up with law enforcement to investigate the details, like where the gun was stored and other details about the incident.
It's chilling to think that 200 children have been unintentionally injured or killed just this year because a firearm wasn't properly stored out of reach. In 2015, a total of 265 people were unintentionally shot by minors who were able to get their hands on a firearm. It's something that most people might not think about when it comes to gun law reform. We discuss mass shootings, mental health screenings, taxes and background checks. It's not often that the public's attention is directed to these accidental shootings among minors. Yet it happens all the time.
According to Gun Violence Archive, deaths and injuries are more common with children under the age of 5. The outlet says that its data shows 3-year-olds are the most common shooters and victims. There's a spike later in life, too, with 15-17-year-olds being the most likely to be fatally shot by another teen or survive self-inflicted injuries.
Unintentional shootings are also more common in southern states and are usually male. With all of this data, it's odd that Congress can't come to an agreement about gun reform. Even after a sit-in staged by Democrats in the wake of the Pulse nightclub shooting in Orlando this June, there hasn't been much mention of the issues. Maybe it's because they don't know where to start — there have been over 100 measures presented to Congress since 2011 about gun law reform, and still, no headway has been made.
It's a complicated process. But something has to give if this many children are either unintentionally firing a gun and hurting themselves and others, or becoming the victim of such shootings. The longer it takes for Congress to work something out, the more lives are at risk.