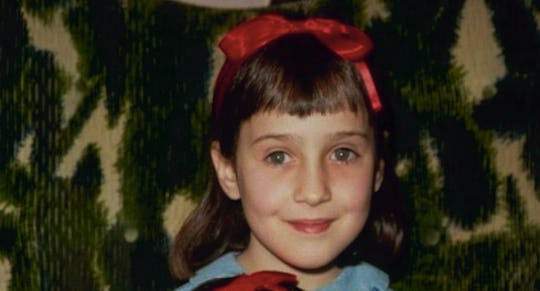 Mara Wilson
Mara Wilson Knows You Loved Matilda & She's Finally Ready To Embrace It
Ever wonder what your favorite childhood stars are doing now? Same. In Romper's new series Claim to Fame, we're bringing you exclusive interviews with the faces of the past, contextualizing them in the present, and finding out what they've learned from their claim to fame.
When Harry Potter and the Sorcerer's Stone first hit theaters back in 2001, the world collectively fell in love with the strength and independence of Hermione Granger. But five years before that, Mara Wilson played Matilda, the clever heroine of the book-turned-movie by the same name, whose mind proved to be her greatest and most powerful weapon. The film ended up turning Wilson into one of the biggest child stars of the '90s, though she admits today that this came with its own set of challenges, since fans didn't know how to separate the 9-year-old actress from her iconic character.
"I felt almost like Matilda was an older sister that was constantly outshining me," Wilson shares with me over the phone. "I felt like I was never going to be anywhere near as cool and amazing and brilliant as this character was." Even now, despite the fact that she's gone on to become a successful comedian and published author, many still have a difficult time differentiating her from the Matilda legacy. "I did feel like I was living in her shadow," Wilson admits.
That's not to say that this confusion didn't occasionally come with perks. "I always joke that people probably think that I'm way more smart than I am because I played Matilda," she says. "So that works to my benefit." However, Wilson doesn't need Matilda's influence be considered intelligent; she herself graduated from NYU's Tisch School of the Arts in 2009.
During our conversation, Wilson recounts the many times she's been told how Matilda helped inspire people to go on to teach kids or become librarians. She also doesn't laugh when I admit that I used to try and make objects zoom around my bedroom in the early days of my childhood, hoping I could be just like her. What feels like an embarrassing admission to me is just a typical weekday confession for her — she tells me she hears it "at least once a week."
It's easy to imagine how repetitive conversations like this can grow tiring over the years, but perhaps Wilson's tolerance to these confessions stems from the fact that she, too, was a huge Matilda fan long before she ever tied that red hair ribbon on the top of her head. In fact, one of her very first memories involves listening to her mother — who died when Wilson was just 8 years old — read the book out loud to her brother's classroom. "I was curled up in my pajamas in the back of the classroom listening and just fascinated," Wilson recalls. "That is one of my earliest memories ... listening to my mother make this amazing character and amazing book come alive." Little did she know that she'd end up doing the exact same thing for many young girls just a few years later.
As much as Wilson sometimes wished to distance herself from her past, there's no denying that her portrayal of Matilda helped pave the way for intelligent young girls to take the lead. Traces of her can be spotted in various modern-day characters, whether it be Rory's love of books on Gilmore Girls or Diane Johnson's quick wit on Black-ish. However, Wilson feels like there's still room for improvement. "We need more characters like [Matilda and Meg Murry from A Wrinkle in Time] who are smart, who are fighters, who are real," she explains. "I think that is incredibly important and we should ask for that and try to push for that as much as we can." After looking at the annual report on gender representation in film by the Center for the Study of Women in Television and Film at San Diego State University, I can see that she's right. The study showed that out of the 100 highest-grossing films of 2017, just 24 percent were led by women, down from 29 percent in 2016.
It's fitting then that Wilson has signed on to help judge this year's Roald Dahl's Imaginormous Challenge, a contest that encourages kids to come up creative story ideas in the hopes of winning one of five possible prizes. "I love the way children think," Wilson reveals. "I loved writing stories growing up, so that's something I really want to encourage in other people as well and it's so empowering to feel like you created a world." So, in a way, she's now helping other young kids find their inner-Matilda and maybe go on to create other empowering characters just like her.
Wilson is living proof of how big of an impact future generations can have on the world. And while she may have originally viewed her link to Matilda as somewhat of a burden, her 30-year-old self has learned to embrace the shadow of her past — which is something she hopes future young actors do with the characters they can't seem to separate themselves from in the eyes of their fans. "Don't let the hard things that can come with fame make it so that you hate that character," Wilson advises. "I think that above all it's important to be grateful and to remember what an impact you are making on other girls and other kids of all genders."
Wilson may have felt like she was living in the shadow of Matilda for a long time, but for many children she served as a beacon of light, proving that you don't have to be a certain age to make a difference. What an encouraging thought.