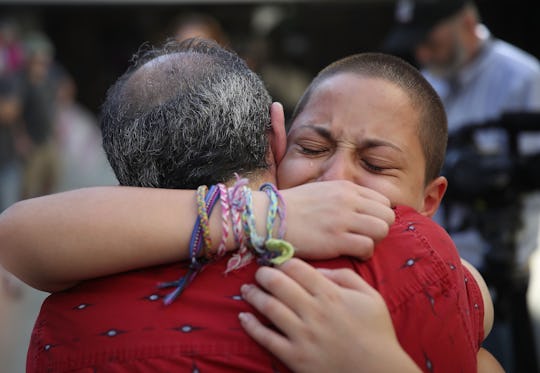 Joe Raedle/Getty Images News/Getty Images
Here Are The March For Our Lives 2018 Locations For People Around The Nation To Get Involved
On Feb. 14, a gunman shot and killed 17 people at Marjory Stoneman Douglas High School in Parkland, Florida. The violence broke the hearts of Americans throughout the country, the way it has time and time before, now that mass shootings have seemingly become a way of life. But for survivors, the shooting also sparked a kind of outrage that is inspiring the mobilization of a much-needed movement. On March 24, students around the country will march for political action against gun violence, and though March For Our Lives 2018 locations are still being officially determined, now is the time to join the effort to ensure that rallies and marches are organized in communities across the nation, to help push once and for all for necessary (and literally life-saving) change.
As powerful as the students' bravery and strength is, perhaps the most poignant aspect of the March For Our Lives movement is the fact that it shouldn't have to exist in the first place. After all, while the Parkland shooting was horrific, it was far from being a surprising anomaly: of the 30 deadliest mass shootings in the United States, 19 have occurred in the last 10 years, according to CNN, and now, the Parkland shooting has become the ninth deadliest single-day mass shooting in modern American history. What's more is that, not even two full months into 2018, the Parkland shooting has also become one of 17 incidents where guns were fired at schools and colleges this year, according to Everytown for Gun Safety, and according to the Gun Violence Archive, the shooting was also the 21st mass shooting to occur in 2018 — though four more have occurred in the past three days alone.
On Sunday, five Parkland students — Jaclyn Corin, Emma Gonzalez, David Hogg, Cameron Kasky and Alex Wind — announced plans for the March For Our Lives, according to Politico, after they and their classmates spent days bravely speaking out on Twitter and in media interviews against the government's lack of action against gun violence and mass shootings. The goal of the march, according to the teens? To push lawmakers to expand regulations on gun ownerships, and, basically, to actually do something concrete in respect to gun violence beyond simply pointing the finger, or offering up useless "thoughts and prayers."
Similar to the 2017 Women's March, the March For Our Lives will include a main march in Washington, D.C., but will also include community-led marches in cities all over the United States. So far, those community marches have yet to be officially announced, though students are clearly wasting no time getting plans together. On the main March For Our Lives Facebook page, event pages have been created for both the Washington March, as well as for a community march in Columbus, Ohio. But from the looks of it, students are already taking it upon themselves to create Facebook event pages, in their communities too: marches are already being planned in Owensboro, Kentucky; Sacramento, California; Reno, Nevada; Little Rock, Arkansas; Austin, Texas; and New York City, New York, with many more groups still to come.
Given that many of the teens involving themselves in the March For Our Lives movement aren't yet old enough to vote, the power of their political action takes on even more significance. After all, as Marjory Stoneman Douglas High School junior Cameron Kasky explained to CNN on Sunday, he and his classmates became the victims of the inaction of a political system they haven't even had a chance to participate in. Of the decision to organize the march, Kasky said, "My message for the people in office is this: You're either with us or against us. We are losing our lives while the adults are playing around."
Though the momentum for the March For Our Lives is building fast, it's still in its early days, and the teens working to make it happen could no doubt use as much support as possible. One way to help? Kasky has set up an official GoFundMe page for people to help with the organization process and all the related costs, and March For Our Lives merchandise is currently being sold as another way to raise funds (all proceeds will go towards the march). Donations can also be made directly on the March For Our Lives website, and anyone interested in joining the movement can sign up there as well to receive news and updates.
As infuriating is it is that American teens have been pushed to plan marches throughout the country because they are literally being shot and killed in their own classrooms with virtually no protection from adult lawmakers, it's also an incredibly inspiring sign that, while older generations may have been willing to accept political complacency regarding gun safety laws and the NRA, the next generation of voters and activists (and hopefully, politicians) isn't even sort of having any of it.
For now, there may still be many details to work out ahead of the march. But if the progress already made in the past few days is any indication of what's to come, the lawmakers who have sat idly by as mass shootings have continued to occur should probably be starting to feel pretty nervous about the fate of their political futures.