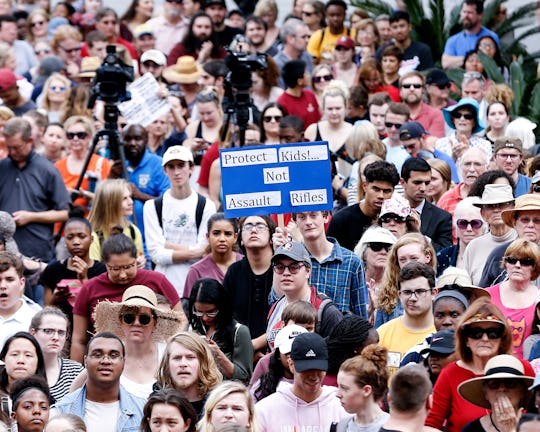 Don Juan Moore/Getty Images News/Getty Images
Going To The March For Our Lives? Don't Forget Your Evil Eye Gloves
This Saturday, March 24, cities around the world will see a wave of March For Our Lives (MFOL) demonstrations — gatherings of people demanding an end to America's persistent gun violence. Organized as a direct response to the school shooting at Marjory Stoneman Douglas (MSD) High School in Florida on February 14, the main march will take place in Washington, D.C., with 817 sibling events around the globe, according to the event's website. And because there are some similarities between MFOL and the Women's Marches, you may be wondering whether the famous pink pussy hats will be making an appearance this weekend.
But while the two events do have some commonalities (like disagreement with the current government and protest against the President's policy positions), the MFOL is pretty different from the Women's Marches. For one thing, the MFOL is explicitly nonpolitical, as stated on the event's website. And the students from MSD who are speaking out and taking action with state and national lawmakers fall on both the conservative and liberal sides of the spectrum, as reported by the Washington Post. And while the Women's Marches were open to participants of any gender, their name indicated that their purpose was to raise awareness of issues particular to women. The MFOL doesn't make any such distinction: Though organized by students, it's meant to appeal to, include, and represent people regardless of age or gender.
And the MFOL has developed its own brand of swag, as well. Krista Suh, a self-described craftivist and an originator of the Pussyhat Project in November 2016, has recently launched a companion piece of knitwear just for the MFOL: the evil eye glove, a fingerless hand warmer with a large eye stitched on the palm. The idea is for all the march participants to wear a pair and thus create an enormous "sea of eyes" to show Congress that people are watching, according to Lifehacker. Suh is looking for volunteers to donate 438 pairs of the gloves to the D.C. MFOL, one pair for every person killed or injured at a school shooting since 2014, as reported by the New York Times.
If you'd like to join in the sea of eyes, either in D.C. or in your own town, you have a couple of options. You can create your own evil eye gloves following the pattern designed by Suh — even a complete knitting newbie can purl her own pair with the help of Joy Macdonell's video tutorial. Or, if you prefer to purchase, there are plenty of options available on Etsy and eBay.
Of course, even with gloves on your hands, you still have space on your head for a pink pussy hat, should you choose to wear one. Before making your decision, though, it might be helpful to understand how perceptions of it have shifted since the trend was started.
For the first Women's March in January 2017, the hat was widely seen as a symbol of the participants' unified protest, particularly against the President's infamous remarks about grabbing women by their genitalia. But by the time the second Women's March rolled around in January 2018, opinion was pretty split on whether it was a good idea to dust off the hats to wear again. Organizers of some marches declared that they wouldn't be wearing the hats because "the pink pussyhat excludes and is offensive to transgender women and gender non-binary people who don't have typical female genitalia and to women of color because their genitals are more likely to be brown than pink," according to USA Today.
However, the creators of the hat have said they chose pink not because of any association with skin color, but because it's typically associated with femininity. And the style and shape of the hat were not meant to resemble a vulva, but to look like the ears of pussycat and thus remind people of the President's offensive statement. The intention was to reclaim the world "pussy" and the color pink. But, understanding that not everyone was interpreting the hat the same way, the creators wrote, "Anyone who supports women's rights is welcome to wear a Pussyhat. It does not matter if you have a vulva or what color your vulva may be. If a participant wants to create a Pussyhat that reflects the color of her vulva, we support her choice."
So while the pussy hat isn't the insignia of this weekend's march, there's a good chance we'll see a few people wearing them — perhaps along with a pair of shiny new evil eye gloves. If you want to sport your own pink pussy hat and bring it into dialog with this new protest, that's totally up to you.
Check out Romper's new video series, Bearing The Motherload, where disagreeing parents from different sides of an issue sit down with a mediator and talk about how to support (and not judge) each other's parenting perspectives. New episodes air Mondays on Facebook.