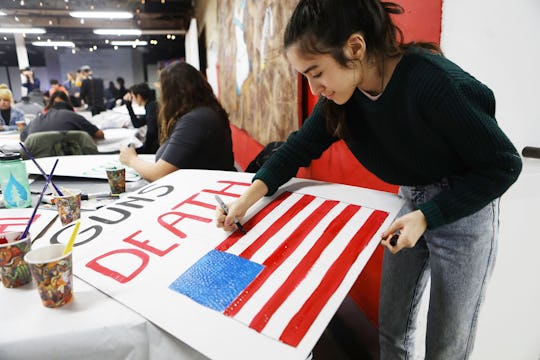 Mario Tama/Getty Images News/Getty Images
Here's What Our Kids *Would* Be Doing Today, If They Weren't Marching For Their Lives
One month and 10 days after 17 people lost their lives when a 19-year-old walked into Marjory Stoneman Douglas High School with an AR-15 and opened fire, hundreds of thousands of students marched on Washington, D.C. demanding gun reform. The responsibility of ensuring our children can attend school safely has, for better or worse, fallen on the shoulders of America's youth. As survivors, kids have been forced into activism due to the inaction of our elected officials; their childhoods now tainted by gun violence and congressional deficiency. Romper spoke with March For Our Lives participants in Washington, D.C. on Saturday, March 24, to ask what they'd be doing if this was a perfect world, if gun lobbyists didn't contribute millions of dollars to politicians' campaign contributions that encourage politicians to avoid enacting common sense gun laws, and if they weren't forced to fight for their own lives on an otherwise beautiful Saturday morning.
Since 20 kindergarteners and six adult staff members were murdered at Sandy Hook Elementary school on Dec. 17, 2012, more than 400 people have been shot in over 200 school shootings, according to The New York Times. And yet, our elected officials have failed to pass any semblance of common sense gun reform that could keep high powered weapons of war out of the hands of troubled individuals, both young and old. Marco Rubio, the Republican Senator representing Florida, received $90,205 in campaign donations from gun rights groups during the 2015 to 2016 campaign cycle, and $3,303,355 over the course of his political career, according to The New York Daily News. In 2016, Rubio voted against legislation that would've banned known or suspected terrorists from buying guns. The shooter who murdered 49 people and wounded 58 others at Pulse Nightclub in Orlando, Florida on June 12, 2016, was placed on a terrorist watch list in 2013. He was investigated by the FBI, but never charged and later removed from the list.
This is but one of the many examples of elected officials that have failed to keep America's children safe. After the shooting at Sandy Hook, Sen. Dianne Feinstein, D-Calif., proposed a bill that included a provision banning the sale, transfer and manufacturing of 150 specific weapons. Previously a federal assault weapons ban had passed Congress in 1994, but our elected officials allowed the 10-year law to expire. Feinstein's bill also failed to pass the house, voted against by both Democrats and Republicans alike. Following the shooting at Marjory Stoneman Douglas, the Florida Senate rejected a bill that would've banned assault weapons, by a 20-to-17 vote. They offered a moment of silence for the victims instead.
So it's up to our children to fight for their right to life, liberty, the pursuit of happiness, and the freedom to attend class without the fear of being murdered at their desks. Instead of doing normal adolescent activities on a weekend, they're marching. And because of our collective indifference to mass school shootings and systemic gun violence, our kids are missing out on things like this: