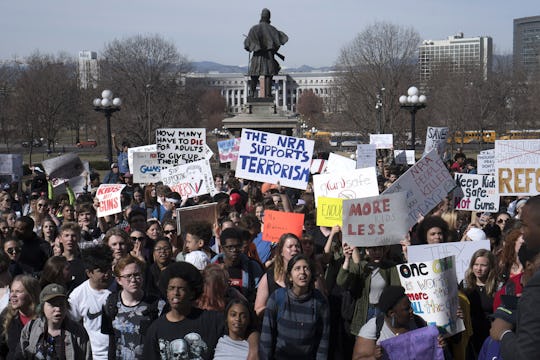 Ross Taylor/Getty Images News/Getty Images
Start Your Day *Early* If You're Heading Out To March For Our Lives For All These Reasons
Shortly after the devastating attack at Marjory Stoneman Douglas High School on February 14, student survivors and their families began organizing the March For Our Lives (MFOL) in Washington, D.C., on March 24. Now that the day of the event is almost here, you may be wondering about logistics — like when to arrive and what to plan for as you're making your way to the rally point. Luckily, the event's website and other resources are offering plenty of useful information. (There's even an app.)
First things first: the D.C. MFOL Rally will be located on Pennsylvania Avenue between 3rd and 12th Streets NW. (For out-of-towners, that's just north of the National Mall.) It starts at noon, and there will be three pedestrian entrances, located at Pennsylvania Avenue and 12th Street NW; Constitution Avenue and 7th Street NW; and Indiana Avenue and 7th Street NW. If you need an accessible drop-off point, you can drive your vehicle to the intersection of 7th Street and Maryland Avenue SW.
While there's no way to know for sure until the day arrives, the website estimates that there will be hundreds of thousands of people in town for the event, so expect to find yourself amid a true mass of humanity. (Happily, there will be both standard and accessible porta-potties onsite.) You should expect epic traffic jams, overcrowded public transportation, and super long lines.
If you're planning to drive to the rally, there are several parking garages located around the Mall. Of course, there's no telling in advance how full they're going to be, so there's a chance you'll have to find parking much further out. One option is to park at one of the last stations on one of the metro lines so you don't have to navigate D.C. traffic.
You could also take your chances with Lyft or Uber: There will be a ride-share drop-off point at 7th and Maryland Streets SW. From there you'll have to head north on 7th Street, across the Mall, to the pedestrian entrance at 7th Street and Constitution Avenue NW. With no other foot traffic, that's about an eight-minute walk, according to Google Maps, but there will 100 percent be plenty of foot traffic.
Public transportation is the recommended option, according to the event website, and the D.C. Metro will operate on a rush-hour schedule to try and accommodate everyone. It will start running service at 7 a.m. on the day of the March, and they are expecting huge crowds not only for MOFL but also tourists pouring in to see the cherry blossom trees, reported The Washington Post. Children under five ride free (a full-fare-paying adult can bring up to two children at no extra cost), but anyone age five and up needs their own SmarTrip card. If you don't already have one, plan to buy a prepaid card in advance, because there will be extremely long lines at the stations the day-of. And try to leave the bulky items at home and travel as light as possible in order to fit the maximum number of fellow demonstrators on every train.
Keep in mind that some Metro stations may be closed due to crowd sizes or security concerns. You can stay up to date with the details by checking the event's FAQ page and following the Washington Metropolitan Area Transit Authority social accounts, @wmata and @metrorailinfo.
There will be security screenings at the rally site, and you can bet that they will slow things down significantly. So build in plenty of time to make your way through the entrances, and make sure to check the list to see what's not allowed. In addition to the usual suspects (no firearms, ammunition, or weapons of any kind; no toy guns; no explosives) you are also not allowed to bring things like bikes, balloons, or bags bigger than 18 by 13 by 7 inches. Your sign has to be 20 feet by 3 feet by 1/4 inch or smaller, and you can't bring any sort of support or pole for it.
The list of speakers and schedule of events haven't yet been posted, but with big-name artists like Jennifer Hudson, Ariana Grande, Demi Lovato, Common, and Vic Mensa set to perform, you can bet that crowds will swell as each set kicks off.
If you're planning to attend one of the 829 "sibling marches" being held around the world, you can find the official website for each one on the main event website. While the D.C. MFOL will likely be the largest of them all, it's a good idea to expect big crowds and clogged streets no matter where you'll be. Keep up-to-date by following your local event's Facebook page and any location-specific hashtags.
So... when should you arrive? The best answer is "early." It's impossible to know ahead of time what crowds will be like, but D.C. has had plenty of giant events before, so the city is used to managing huge numbers of people. Still, you'll want to stay flexible and always ready to go with the flow.
Check out Romper's new video series, Bearing The Motherload, where disagreeing parents from different sides of an issue sit down with a mediator and talk about how to support (and not judge) each other's parenting perspectives. New episodes air Mondays on Facebook.