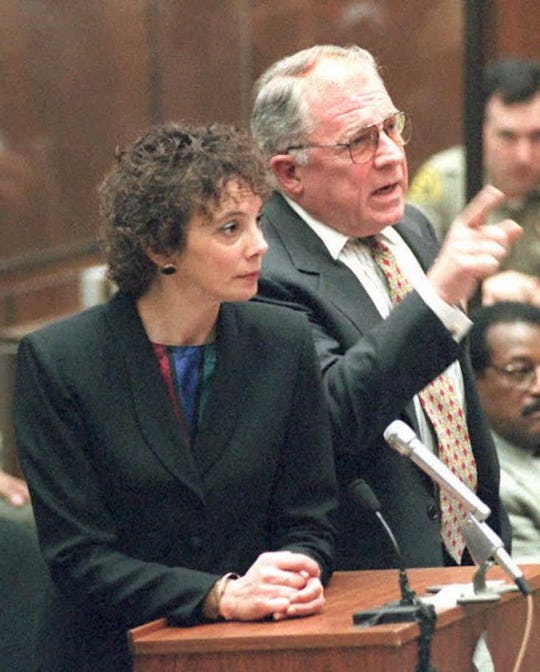 POO/AFP/Getty Images
Marcia Clark's Hair Is Criticized On 'American Crime Story,' But Twitter Is Standing Behind Her
Marcia Clark had to face many sexist critiques during the O.J. Simpson trial, and American Crime Story works to portray those very real criticisms that still, somehow, exist today. On Tuesday's episode, aptly titled "Marcia, Marcia, Marcia," American Crime Story showed viewers how Marcia Clark's hair was criticized by the media and the courtroom when she debuted a new hairstyle. Despite the dramatic and overly critical backlash the change received during the trial, Twitter was overly supportive of Clark when the episode aired, righting a few wrongs from decades ago.
The beginning of Tuesday's episode showed glimpses of sexism Clark faced. For example, she watched a news reporter criticize how she looked in the courtroom. In addition to being in the public eye, Clark had to juggle being a lawyer, mother, and dealing with her ex-husband. This episode, too, showed us the struggles of her personal life.
After her ex-husband accused her of using her family and not being a good mother — on live television to boot — Clark went to her hairstylist in an attempt to make a positive change in her life. She ended up with her infamous perm. While initially happy with her new look, Clark's mood fell once she walked in the courtroom. The room was completely silent, apart from a rude comment about her hair from Judge Ito.
To make matters worse newspapers, too, bashed her new hair. In one scene, she was in a convenience store to buy essentials — including tampons. There, the young clerk made a comment about how Clark would act in court this week.
During the perm reveal and subsequent fall out, Twitter fans had a lot to say.
A lot of users supported her and sympathized with her for the unnecessary criticism she had to endure:
Others drew attention to the gross and obvious sexism of the ordeal:
And others applauded the acting of Sarah Paulson, who portrays Clark:
It's nice to see that we're moving forward with our perception of women in power, and now people can call out the sexism that previous decades exhibited. There will always be room for improvement, but it's comforting to see that people know that Marcia Clark is (and was) a lot more than her hair.