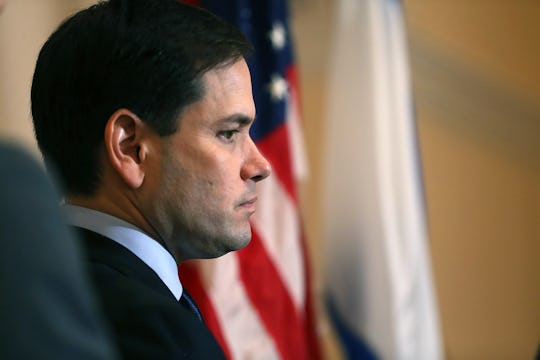 Joe Raedle/Getty Images News/Getty Images
Marco Rubio Drops Out Of The GOP Race, Leaving A Trail Of Hopeful Young Voters Behind
Following a disappointing showing in his home state in the Mega Tuesday primaries, junior Florida Sen. Marco Rubio dropped out of the 2016 GOP race. The news came as a bit of a surprise, even to seasoned political pundits, many of whom had taken Rubio at his word when the third-place candidate promised to campaign in Utah later in the week, no matter the outcome of the March 15 elections. At a rally in Miami on Tuesday, a somber Rubio took to the podium to address his supporters and thank them for their support.
"There's nothing more you could have done," said Rubio. "[America] is in the middle of a real political storm — a real tsunami. We should have seen this coming." The senator then added that he had been battling his "whole life against the so-called elites" of Washington, and that he was proud not to have been swayed to the far end of the spectrum either.
"From a political standpoint, the easiest thing to have done in this campaign is to jump on all those anxieties [that Americans have]," Rubio said. "I chose a different route, and I'm proud of that."
The junior senator has faced meager poll numbers in recent days, with a RealClearPolitics aggregate placing Rubio at an average of around 18 percentage points behind Trump in most major Florida polls. Still, Rubio's camp had promised to push on to Utah, where the senator this week insisted he would be campaigning, win or lose.
"Tomorrow our plan is to be in Utah campaigning irrespective of tonight," Rubio told Orlando's WBDO radio on Tuesday, according to BuzzFeed News. "It would be a lot better to go to Utah being the winner of the Florida primary. It would give us a tremendous amount of momentum. It would give us 99 delegates, and that's the way we want to do it tonight."
In recent weeks, Rubio vacillated between aggressive bickering with front-runner Donald Trump and subsequently taking an apologetic tone afterward. At a post-mortem discussion with Fox News' Megyn Kelly on March 9, Rubio seemed uncharacteristically beaten down.
"My kids were embarrassed by it. My wife didn't like it. I don't think it reflects good. That's not who I am," Rubio told the anchor, reflecting on his attacks against Trump, in which he had poked fun at the billionaire mogul's "small hands" and spray-tanned skin. "I'd do it differently, on the personal stuff. I'm not telling you he didn't deserve it, but that's not who I am and that's not what I want to be — I want to be a good example, I want my kids to be proud of me, and I don't think it reflected well on my faith."
As The Los Angeles Times' Lisa Mascaro pointed out in a column on Tuesday night, Rubio had dedicated much of his early campaign days courting young, suburban families and the youth vote. However, the senator's strategy was upended when Trump, who largely appealed to his base of angry, white, middle-aged supporters using increasingly combative tactics and rally-cries. And while Rubio did manage to take home the majority of the youth vote in Florida on Tuesday night (The Wall Street Journal's Byron Tau reported Tuesday night that Rubio had edged out Trump among young voters with 36 percent to Trump's 35), it simply wasn't enough to keep him afloat any longer.
"While it is clear we are on the right side, this year, we will not be on the winning side," Rubio told the crowd of despondent supporters in Miami on Tuesday night. "And so, while it is not God's plan that I be president in 2016 or maybe ever, and while today my campaign is suspended, the fact that I've even come this far is evidence of how special America truly is."