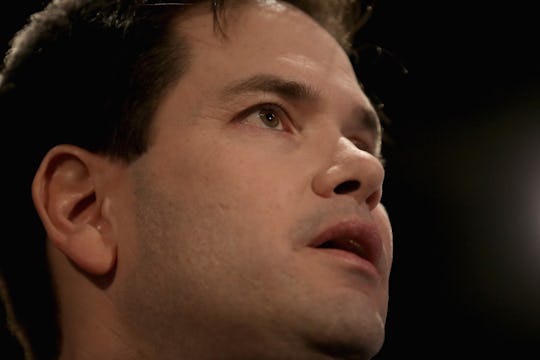 Christopher Furlong/Getty Images
Marco Rubio Essentially Promised To Torture Prisoners At The GOP Debate & Twitter Is Having None Of It
During Thursday night's seventh GOP debate, Florida Sen. Marco Rubio indirectly promised to reinstate torture tactics for prisoners at Guantanamo Bay detention camp in Cuba. After being asked to respond to statements made by Kentucky Sen. Rand Paul, in which Paul reinstated his disapproval of the USA Freedom Act and the now-defunct Patriot Act, Rubio said that he would take a much more aggressive stance, tracking down radical jihadists and taking them to the isolated prison where he said he would extract whatever information he could. Drawing on his differences with President Obama, Rubio said he would "keep [the] country safe."
"I believe the world is a safer and a better place when America is the strongest power in the world, and I believe only with a strong America will we defeat this radical group, this apocalyptic group called ISIS," said Rubio, claiming that, if elected president, his administration would "rebuild" the country's intelligence capabilities in order to "destroy" ISIS terrorists. "If we capture any of these ISIS killers alive, they are going to Guantanamo Bay, Cuba, and we're going to find out everything they know, because when I'm president, unlike Barack Obama, we will keep this country safe."
Later in the debate, Rubio reaffirmed his pledge to keep Guantanamo's doors open — directly contrasting Obama's initial pledge to close the detention center for good during his own 2008 presidential campaign. "We must keep America safe from this threat," Rubio added. "And yes, when I am president of the United States, if there is some place in this country where radical jihadists are planning to attack the United States, we will go after them wherever they are, and if we capture them alive, they are going to Guantanamo."
The Wall Street Journal on Thursday was also quick to point out that Rubio had included American citizens who had been involved in foreign terror plots in that line of punishment, noting that "there [weren't] any U.S. citizens being held [in Guantanamo]" and that it was solely "for foreign terror suspects."
Rubio's comments at Thursday's debate weren't entirely unexpected. In previous interviews and campaign stops, the junior senator has come off as hawkish on the subject of enhanced interrogation techniques, and although he missed an official vote on a measure in June last year that would have categorically banned torture on prisoners, he later said in a statement he would have voted against it.
"I do not support telegraphing to the enemy what interrogation techniques we will or won't use, and denying future commanders in chief and intelligence officials important tools for protecting the American people and the U.S. homeland," Rubio stated.
Despite Rubio's confidence in addressing the topic once again on Thursday night, Twitter was largely having none of it.
Rubio's frank candor may have won accolades at this week's GOP debate, but it may hurt him in the long run, should he take home the party's nomination — and a ticket to the general election debates — later this year.