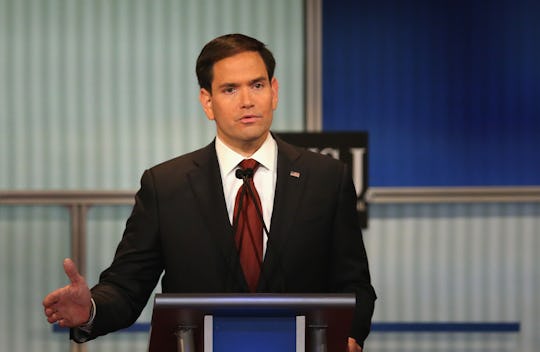 Scott Olson/Getty Images
Marco Rubio's Closing Statement At Fourth GOP Debate Makes It Even More Clear That He's The GOP's Rising Star
All eyes were on Florida Senator Marco Rubio during the fourth GOP debate — and all ears were piqued for Rubio's closing statements. Let's face it, when it comes to the poll numbers, Rubio is rising faster than any other Republican candidate, with frontrunners like Carson beginning to take credibility hits. Sure, he doesn't have the numbers of Carson or Trump right now, but as Jeb Bush continues to perform poorly, Rubio is emerging as a rising star the GOP can stand behind. Rubio has also proven himself to be a fantastic debater, which is clearly why, after every debate so far, his poll numbers have gotten a nice boost. 
Come Wednesday morning, we're likely to see this same trend continue. In the fourth GOP debate, hosted by FOX Business Network managing editor Neil Cavuto, Global Markets editor Maria Bariromo, and Wall Street Journal editor-in-chief Gerard Baker, moderators primarily focused on the economy. But in Rubio's closing statements, he took the opportunity to speak about much more than rebuilding the infrastructure. Rubio packed a big punch into those 30 seconds; and it showed. His touchstone points centered around what's really going on in Washington, namely, that it's "the fault of both parties" being out of touch that's led to our discord. It's a formidable argument made by a younger and more accessible candidate. But with opponents like Bush and Carson, saying that Rubio seems to be the most "accessible" is not saying much. 
Rubio's closer, did however, prove yet again that he's a skilled and articulate debater — and that means trouble for fellow candidates like Jeb Bush, who hasn't been able to perform at a debate yet. The question now becomes, will Rubio's eloquence be enough to make him the established GOP candidate? Here's a look at the candidate's final statement:
The story of America is an extraordinary story. It is the story of a nation that for over two centuries each generation has left the the next generation better off than themselves. But now because Washington is out of touch, for the fault of both political parties, for the first time in our history, that isn't now. And that is what this election  must be about in the next four years is anything like the past eight years our children will be the first Americans left worse off than their parents. This election is about making a different choice; about applying our principles of limited government and free enterprise to the unique issues of our time. And if we do, we will not just save the American Dream, we will expand it to reach more people and change more lives than ever before, and the 21st century can be a new American century. So tonight, I ask you for your vote, and I ask you to join us at my website, MarcoRubio.com.
Twitter seemed to agree that Rubio's closing remarks were pretty on-point, albeit over-rehearsed:
One user also couldn't help but point out that look of panic in his eyes when it seemed as if he forgot his lines.
...And his, er, dry mouth?
But to be fair, Rubio's closer (before the website plug) felt authentic to me. At least like he's trying to be a person. I'm kind of seeing him as a real human now. This past weekend, he came under fire for how he used a state Republican party credit card while he was a legislator, totaling $7,244, for personal expenses, and yet, the scandal doesn't seem to have hurt his platform. I'd say he handled it well, and followed it with a solid performance in this debate by using big words, knowing what countries participate in the TPP, and flashing his winning smile. 
Image: Scott Olson/Getty Images